Nigeria's image received a boost on Thursday, October 19, 2017 before the international community as former Agriculture Minister, Dr Akinwumi Adesina, formally received the 2017 World Food Prize (WFP) Laureate award in the U.S.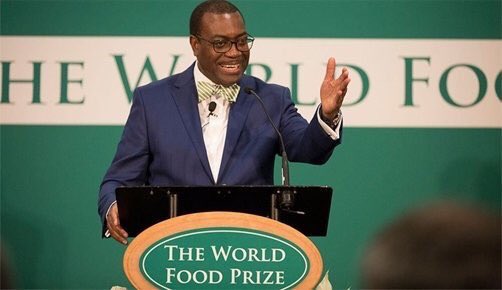 Adesina was conferred with the laureate in Des Moines, U.S. during which he committed the $250,000 cash prize to set up a fund for financing African youths in agriculture.
Adesina had been announced as winner of the global feat by the WFP for his dogged determination and practical commitment to boosting agriculture and food supply chain both as Minister of Agriculture and President of AfDB.
Adesina, who is also the President of African Development Bank (AfDB), commended his staff for the shared passion to feed Africa.
The former minister expressed gratitude to ex-President Olusegun Obasanjo for nominating him as minister.
Adesina also thanked former President GoodLuck Jonathan for giving him the opportunity of his life to serve his country, Nigeria, as a minister.
He also thanked President Muhammadu Buhari for his strong support to achieve the feat.
"There wouldn't be any rest for me until Africa feeds itself and for that we need the youth.
"And so even though I don't have the cash in my hand, I hereby commit my 250,000 dollars as a cash prize for  the WFP award to set up a fund fully dedicated to providing financing for the youth of Africa in agriculture to feed Africa.
"A day is coming very soon when the barns of Africa will be filled and all her children will be well fed, when millions of farmers will be able to send their kids to school.
"Then you will hear a new song across Africa; thank God our lives are better for us,''Adesina said.
The Governor of Iowa, Kim Reynolds, who officially declared Adesina as the 2017 laureate winner of the WFP, said he was a man who grew out of poverty to create wealth.
Reynolds said that the laureate commitment and dedication in agriculture had impacted on lives of many, not only in Africa but around the world.
The News Agency of Nigeria (NAN) reports that former President of Ghana, John Mahama, attended the ceremony and other dignitaries from Nigeria and African countries.
By Suzzy Tolofari