A devastating oil spillage has occurred on the 24 inches Trans Ramos crude oil pipeline owned by Shell Petroleum Development Company (SPDC), in Odimodi Community in the swamps of Western Niger Delta, in Burutu Local Government Area of Delta State.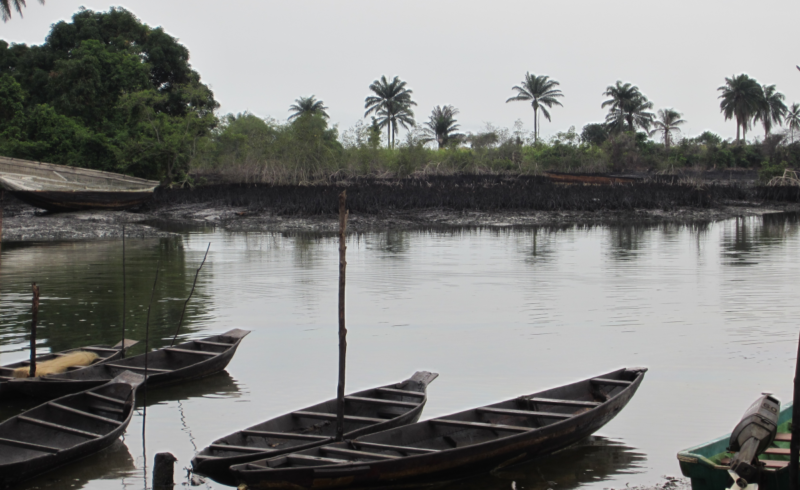 The crude oil spillage is said to have spread to over 50 communities under the Odimodi Federated Communities and others in the creek.
In a statement made available to EnviroNews on Friday, May 25, 2018, SPDC confirmed the incident.
According to the statement, as soon as the leaks were noticed on April 24, SPDC immediately shut down production, deployed containment booms and mobilised its oil spill response teams to clean the sites. These measures, which Shell insists are according to its standard operating procedures, successfully stopped and contained the spill.
"In line with Nigerian oil and gas industry regulations, a Joint Investigation Visit (JIV) team comprising security and regulatory agencies as well as community representatives and SPDC personnel was constituted and deployed in the sites," the statement added.
The JIV team confirmed four leak points on the pipeline and identified the impacted areas in Odimodi community.
Meanwhile, the cause of the leaks is yet to be determined as SPDC is said to be working on further site preparation and mobilisation of specialised equipment to the swamps for safe excavation of the pipeline for inspection.
The JIV team is expected to return to the sites as soon as possible to complete the investigation process.
Following distress calls, the Member representing Burutu Federal Constituency in the House of Representatives, Julius Pondi; the Member representing Burutu 1 Constituency in the State House of Assembly, Daniel Yingi; and the PDP Chairman, Delta South Senatorial district, Prince Emman Amgbaduba, among others visited the community to ascertain and get an on the spot assessment of the situation.
Pondi and Yingi, who sympathised with the various communities affected by the spillage, reportedly expressed concern that Shell had not shown any commitments to the plight of the people since the spillage occurred.
They said though Shell had put measures in place to contain the spread and to recover crude oil from the damaged pipeline, the spillage had polluted the entire area destroying aquatic life which had made fishing, which is the major occupation of the people, impossible.
The Federal and State lawmakers decried the situation that the report of the JIV team consisting of Shell, Directorate of Petroleum Resources (DPR) and the National Oil Spill Detection and Response Agency (NOSDRA) on the spillage was yet to be made public.
The lawmakers emphasised the need for the JIV report to be released, stressing that the spillage was not as a result of sabotage but due to equipment failure on the part of Shell.
They expressed worry that multinational oil companies have always devised means of short-changing communities whenever a spillage occurred as Shell was yet to meet with the community to discuss with them and assuage their plight.