Snow began falling on Friday afternoon in Washington, which could get more than 2½ feet of snow before the storm ends at the weekend. Observers predict it could be the biggest winter storm in recorded history in the nation's capital, and almost certainly in the top five.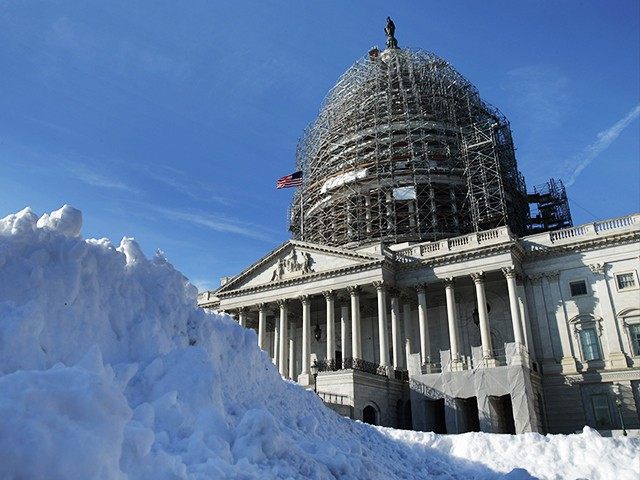 Similarly, over 6,200 U.S. flights – about 2,900 on Friday and another 3,300 on Saturday – have been canceled, the flight tracking website FlightAware reported around 2:20 p.m. on Friday.
Nearly 30,000 customers of Duke Energy, the power utility for much of North Carolina, were without power early Friday afternoon. Dominion Virginia reported about 900 such outages, though Dominion official Kevin Curtis warned that "widespread, multi-day outages" are possible.
It might be a month late, but winter reintroduced itself to the East Coast in a big way on Friday.
A monster storm lashed parts of the South and the Mid-Atlantic on Friday as it barreled north toward some of the nation's biggest cities. Roughly a quarter of the U.S. population is in its path, about 30 million of whom are under blizzard warnings.
"This is not a near miss," CNN meteorologist Chad Myers said. "This is a direct hit."
Tennessee and North Carolina got hit first early Friday, with snow covering the ground in cities like Asheville, Charlotte and Greensboro. Ice is also a problem in those areas, which have slick roads and well over 20,000 power outages.
The US capital is not alone in expecting blizzard conditions. On Friday morning, the National Weather Service extended its blizzard warning to include Philadelphia and New York City. Upwards of 10 million people live in those three areas; and millions more in parts of Virginia, Maryland, Delaware and New Jersey are under the same advisory.
"It has life and death implications, and (people) should treat it that way," Bowser warned Washington residents. "People should hunker down, shelter in place and stay off the roads."
The massive storm already has dumped an icy blotch of freezing rain, sleet or snow from Oklahoma through Tennessee. And while the focus is on points north, it has caused lots of trouble in the South as well.
That includes severe thunderstorms in Florida; up to 7 inches of snow in Nashville, Tennessee; and even a winter storm warning Friday afternoon into Saturday night for parts of North Georgia and South Carolina. The system also slammed Kentucky and West Virginia, and parts of both could see over a foot — and as much as 3 feet — of snow.
Across the Southeast on Friday, there were no classes, or students headed home early, just in time for the weekend. Places like Charlotte, North Carolina, looked like ghost towns, as people heeded warnings to stay off the roads.
"I'm glad people are staying in, because it's very treacherous here," Charlotte Mayor Jennifer Roberts said.
That's a good thing because, according to North Carolina Gov. Pat McCrory, there's only so much authorities can do, given the slick mix of snow, sleet and freezing rain blanketing the state.
He said the bad weather already has caused at least three deaths. It has also forced the postponement of hundreds of events – including NBA games in Philadelphia and Washington, plus an NHL contest in the nation's capital, as well as a rally for the Carolina Panthers ahead of their NFC professional football championship in Charlotte. Some fans from Arizona, the home of the Panthers' foe, flew out early to make Sunday's title contest, AZ Central reported.
But McCrory predicted a good outcome for his home team, which practiced Friday in the snow: "I don't anticipate anything stopping the Carolina Panthers from getting to the Super Bowl," the governor said.
'Hardest snowstorm' in memory in Virginia
As the winter storm moves north, snow becomes more and more of a concern.
In Virginia, state government offices and schools shut down ahead of the storm. Gov. Terry McAuliffe told CNN on Friday morning that some 25,000 personnel with 13,000 pieces of equipment, 650,000 tons of salt and 2 million gallons of liquid salt are positioned strategically around the state.
"I'm very concerned about Northern Virginia," said McAuliffe, who indicated he could shut down Interstate 81, which runs through the middle of the state. "We're looking at anywhere from 1 to 3 feet of snow."
The governor also expressed concerns about people in rural areas and the elderly, saying helping them will be part of the mission for the 500 National Guard members he's activated for the storm.
From her home just outside of Lynchburg, Tracy Batwinas said the storm, coming after what's been a mild winter, has jostled many people. Her husband had to circle many times to get a parking spot outside a local Kroger grocery store, and once he got inside, he found that staples like eggs, bread, milk and more had been cleared off the shelves.
By 9 a.m., snow was coming down fast – "the hardest snowstorm that I can remember ever seeing," said Batwinas, 53, who was born and raised in Virginia. Still, while many are worried, she's looking forward to "a play date" with her husband of four years and their two golden retrievers.
The good news – besides whatever fun those not in harm's way can have on a snow day – is that things should get better soon.
"Next week, it's going to be in the high 40s," McAuliffe told CNN's "New Day." "… We can get back to normalcy very quickly. … But please don't get out on the roads (now) if you don't have to."
D.C. official: 'Predictions going off the map'
That's the line of the day from authorities: Stay off the roads, stay home, stay safe.
CNN's Myers said Washington and Baltimore should see 20 to 30 inches of snow, Philadelphia could get 18 to 20 inches, and New York is looking at 8 to 10 inches. And it'll be a double whammy when combined with the powerful winds. None of it will pile up evenly, though, given all the wind.
Because of all this, federal agencies closed Friday. More than 6,000 flights were canceled nationwide Friday and Saturday, with United suspending flights around Washington and the Mid-Atlantic on Friday afternoon and Philadelphia International Airport nixing all flights in and out Saturday. Amtrak also announced a modified schedule in the Northeast because of the storm, and Washington said its Metrorail system would close all day Saturday and Sunday.
"We just want to go," Andrea Levine told CNN affiliate WRIC after trying and failing to fly out early from Richmond, Virginia, to the Virgin Islands. "We just want to be on vacation."
One saving grace, New York City emergency spokesman Frank McCarton said, is that the worst of this will happen on the weekend when there will be fewer people out.
But wherever they are, people still need power in the middle of winter. And with the weight of so much snow and ice falling at once over the weekend, "we're concerned that we will perhaps get some collapsed roofs," Washington, D.C., emergency management spokesman Chris Geldart told CNN.
Washington could very well break its all-time snow record. Twenty-eight inches fell in the "Knickerbocker Storm" of 1922, named after a theater that collapsed under the weight of snow, killing 100 people.
Said Geldart, "There are predictions going off the map for it."
By Greg Botelho, Ben Brumfield, Ed Payne, Dave Hennen, Tina Burnside, Jason Hanna and Phil Gast (CNN)