President Muhammadu Buhari is scheduled to play host to the visiting United Nations Secretary-General, Ban Ki-Moon, on Monday at noon, at the Presidential Villa, Abuja.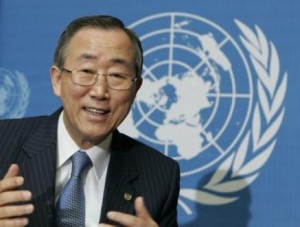 According to a media advisory signed by Oche Egwa on behalf of the Office of the Special Adviser to the President on Media and Publicity, Buhari and Ki-Moon will address a joint press conference at the end of their closed-door session. The meeting is scheduled to hold at noon.
Ki-Moon, according to the statement, will later return to the Presidential Villa for a dinner to be hosted in his honour by the President.
The dinner is billed for the new Banquet Hall of the Presidential Villa by 7pm.
Similarly, the UN Secretary General will meet with 10 young leaders to answer questions on development, climate change and the role of young people. Ahead of the meeting, some delegates would be live on radio: Cool FM (96.9) 9:00 – 9:20 and Nigeria Info FM (95.1) 2:00pm – 3:00pm all GMT+1.
In the light of the large usage of Twitter by young people in Nigeria, there will be a TweetMeet Session that will provide a platform for young leaders and colleagues to discuss development and their role in shaping a better future for all.
It holds on Monday, August 24, 2015 by 5:30 – 6:30 PM GMT+1. The Twitter Channels are: #Action2015NG #SDGs and #SDGsNG @UN_Spokesperson @mcampaign.
The goals of the event are to:
Promote the sustainable development goals and increase momentum and ownership in Nigeria.
Produce and communicate key messages to influence national political actions towards the implementation of the SDGs.
Increase the knowledge of young people in Nigeria and across Africa on the new development agenda, especially on its opportunity for dealing with youth development issues.
Inspire the next generations of leaders on their roles in promoting sustainable development.
Twitter handles of the Young Delegates who will be representing Nigerian Youth: @missamah05 @estherclimate @mareeyama @rotexonline @vinnydrey @edwindaniels @christyasala @ojonwa @SpeshYh @Hamzy12.