"Up Against Trafficking", a campaign that is aimed at protecting Boko Haram victims from sex trafficking, has been officially launched in Maiduguri, the capital of Borno State, in northeast Nigeria.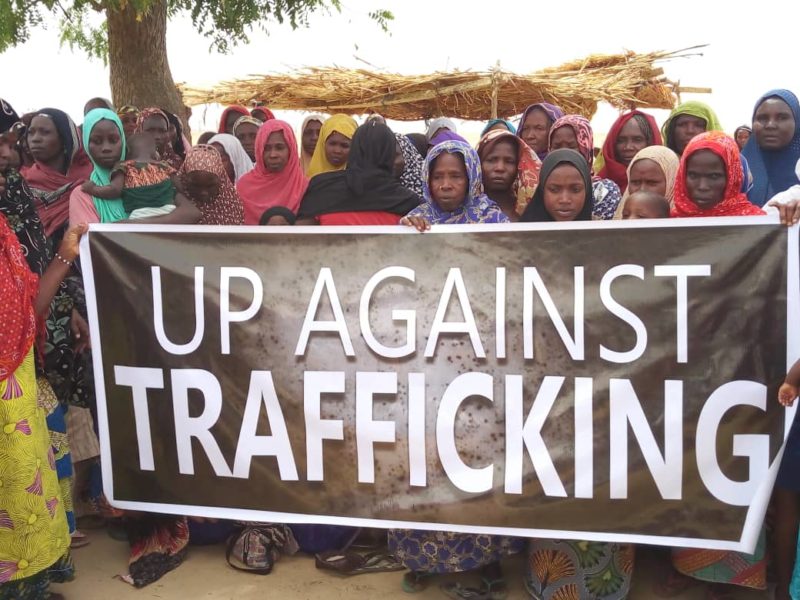 At least 200 women and children in Internally Displaced Persons (IDP) camps in Madinatu and Bulumkutu, where girls have reported how they were approached by human traffickers who took them out of Nigeria, joined in the unveiling of the campaign at the weekend.
"As a victim of human trafficking, I know what women pass through when they are taken out of Nigeria," said Ya Batu Bukar, who was taken to neighbouring Niger and abandoned without food and money by her trafficker until she found help back to Maiduguri. "I don't want another woman here to pass through the same pain, and that is why I am part of this campaign."
Up Against Trafficking brings together female victims of human trafficking out of IDP camps who move round northeast Nigeria educating their peers on the dangers of human trafficking and how to protect themselves from traffickers and their agents.
"When anybody comes to you and talks to you about giving you a job in a far place, just report to the police or any security official you see around," said Maryam Haruna Muhammad, who was taken to Saudi Arabia and enslaved by her trafficker before she was deported back home. "You can call any of us [at Up Against Trafficking] and we will let the police know."
Up Against Trafficking was conceived by human rights activist and journalist, Philip Obaji Jr., after he toured IDP camps in northeast Nigeria last year and discovered that victims of the Boko Haram insurgency, especially girls, are often approached by human traffickers, and taken on a long and dangerous journey toward Europe, with some having to visit traditional ritual shrines for oath-taking rituals that bind them to their benefactors.
The victims are often promised jobs outside Africa, but many remain in the continent where they are enslaved by criminal gangs in places like Libya and Niger.
"When I initially heard a number of young girls tell me about their painful ordeals in the hands of human traffickers, I said to myself 'This has to stop'," said Obaji, who has written a number of investigative stories on human trafficking for The Daily Beast and Ventures Africa. "After consulting with security officials, local community leaders, and the victims themselves, I decided to set up Up Against Trafficking."
The campaign to prevent displaced persons in northeast Nigeria from being exploited by human traffickers may be making the news in Maiduguri, but it is also expected to be active in Adamawa and Yobe states, where there is a high population of people living in IDP camps.