Global climate leaders will converge on Paris, France, from June 22 to 23, 2023, for the Macron Summit, a crucial event that aims to pave the way for, among others, a new global climate financing plan.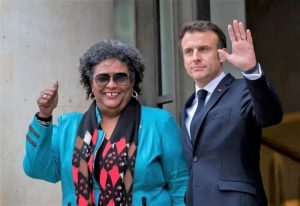 This summit is being hosted by French President Emmanuel Macron and Barbados Prime Minister Mia Mottley, and it seeks to focus discussions on three pressing issues: climate, development, and debt.
The two-day conference features an opening ceremony, six round tables, 30 branded events, and over 50 parallel events, with a lineup of influential leaders, including Prime Minister Mottley, Chancellor of Germany Olaf Scholz, President of Mozambique Filipe Nyusi, President of Brazil Luis Inacio Lula Da Silva, and many others. 
On climate issues, the conference is expected to set the agenda for the issues to be expected at COP28 later this year. Given the fact that it covers the major issues that African nations face – climate, debt, and development – the summit is extremely important to nations in the global South. 
Since the historic Paris Agreement was signed in 2015, the Global South has consistently complained about lack of access to climate financing. This is despite developed nations promising to contribute $100 billion annually to managing and mitigating climate change in Africa. Wealthy nations' promises have fallen short of expectations, which has had negative repercussions for underdeveloped nations, notably those in Africa. The worst effects of the worsening climate disaster are being seen in Africa, which produces less than 3% of global emissions. Furthermore, amidst the COVID-19 crisis and geopolitical headwinds triggering economic shocks, African countries are burdened with unparalleled economic challenges. 
To meet their development aspirations and address climate change, these countries have been forced to rely heavily on debt, leading to historic levels of debt stress. This reliance on debt severely compromises their ability to adapt to climate change and achieve low-carbon development. A staggering 60% of climate financing coming into the continent in 2022 was in the form of debt instruments, according to the UN Economic Commission for Africa. 
Repaying these loans has become increasingly challenging, with recent defaults by Ghana and Zambia serving as alarming examples. African nations won't be able to successfully combat climate change and achieve sustainable development without a comprehensive debt management strategy.
A clearer scenario can be seen in my country Nigeria, with over 200 million people 70% of which are dependent on rain fed agriculture, Nigeria is ranked among the most vulnerable countries in the world. In recent times drought has significantly affected crop yield and worsened food security. The frequency and intensity of flooding has been increasing yearly since 2010 with the loss of farmland and other sources of livelihood. Beyond flooding and drought is sea level rise which is a threat to over 25% of the population and trillion of infrastructure. It has been projected that climate change will cost Nigeria $100 billion by 2020 and up to $460 billion by 2050.
The National Bureau of Statistics (NBS) in its 2022 annual report indicated that the value of agricultural imports in Nigeria has increased to N512. 91 billion (about $745 million). Nigeria, a key oil exporter, faces enormous risks related to the global green shift, including stranded assets, oil debt, and job losses, all of which might cost billions of dollars. The debt crisis further burdens Nigeria, with debt servicing consuming around 86% of the country's revenues. Few months ago it was reported that debt financing is 107% of Nigeria's revenue, indicating that the country borrows to service its debts. 
There is no doubt Nigeria has recognized the urgency of addressing climate change and has already implemented several policies. In 2015 it crafted the first NDC which promised 20% unconditional reduction and 45% conditional reduction. In the run up to the Glasgow Climate Summit, Nigeria revised her NDC to 20 %  conditional and 47 % conditional. The country's revised NDC goals include measures like stopping gas flaring, increasing renewable energy generation, and promoting electric transportation, with a total cost estimated at US $177 billion.
Nigeria's Energy Transition Plan aims to achieve net-zero carbon emissions by 2060. However, this needs an extensive funding requirement; initially projected at $410 billion and later revised to $1.3 trillion. However, Nigeria has not done much in terms of implementation and lack of finance continues to hamstring this plan.
Nigeria has not been able to access much in the green climate fund and find itself unable to strike the kind of deal that South Africa has struck at COP26. Even if it were able to do so, it would not be a good deal for Nigeria given that it will add more to the debt burden. With these challenges it is clear that without substantial and innovative efforts to raise funds, Nigeria will struggle, let alone take effective action against climate change. Therefore, the Macron Summit presents a unique opportunity for the global South, particularly Nigeria, to find tangible debt solutions. The debt to climate action is one of such innovative ways.
In a January statement announcing the summit, Catherine Colonna, the French Minister of Europe and Foreign Affairs, described it as an avenue to "build a new contract between the North and the South." Such a contract, therefore, should facilitate access to financing for vulnerable countries to address ongoing and future crises, most of which have been occasioned by changes in climate. Debt relief, in particular, will restore fiscal space for countries to alleviate short-term difficulties, promote private sector involvement in low-income countries, and encourage investment in green and resilient infrastructure. 
There is no doubt debt relief represents an innovative opportunity to unlock finances that can support Nigeria's energy transition and provide extensive benefits, including access to much-needed green climate funds. Considering Nigeria's size and its oil-based economy, spearheading the climate action in Africa would have a profound impact, mitigating a significant number of emissions. 
The other alternative that the summit can explore are debt swaps as an alternative solution to the debt crisis. While debt-to-nature swaps have been proposed and tried in other countries, they have not been applied in the case of Nigeria and they would wield off significant amounts of economic pressure brought about by repayments. However, it is crucial for the summit to consider a range of initiatives tailored to each country's unique circumstances, as a blanket model may not be effective. 
Debt to nature swap has been proposed by many in the past as a solution to raise climate finance and address the issue of climate change. The type of JETP deal struck by South Africa will not work in Nigeria because much of that will be loans and put Nigeria in more debt. The former Vice President Prof. Yemi Osibanjo actually mentioned this and tried to discuss it with the United States of America as a means to fund their ETP but it did not go far.
The Macron summit offers an opportunity to revisit this idea and bring it to fruition through debt forgiveness pledges. That debt relief (debt for climate) arrangement is essential /represents an innovative opportunity to unlock finances to help fund Nigeria's energy transition. Without such assistance, it is difficult to see how Nigeria can make significant progress with the implementations of its ambitious energy transition arrangement. Such an arrangement can be seen as a type of JETP and can complement current efforts by the government to remove oil subsidies.
By Professor Chukwumerije Okereke, Director of the Centre for Climate Change and Development at Alex Ekwueme Federal University Ndufu-Alike, and a Visiting Professor at the Universities of Reading and Oxford, UK