The Climate and Environment Ministers of the G7, under UK leadership, have secured historic commitments which will put climate, biodiversity and the environment at the heart of worldwide COVID-19 recovery.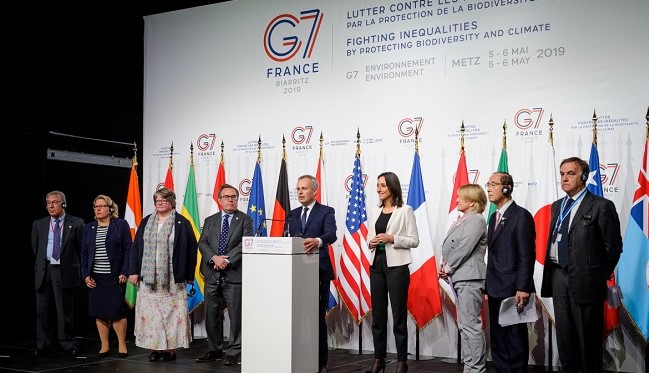 COP26 President-Designate, Alok Sharma, and Defra Secretary of State, George Eustice, convened the Ministers ahead of the G7 leaders' summit in June, including the guest countries of India, Australia, South Africa and South Korea.
All G7 members signed up to the global "30×30" initiative to conserve or protect at least 30 per cent of the world's land and at least 30 per cent of the world's ocean by 2030, and committed to "30×30" nationally.
This year is already the first ever "net zero G7", with all countries committed to reaching net zero carbon emissions by 2050 at the latest, with deep emissions reduction targets in the 2020s.
Taking this further by supporting the transition to green energy overseas, the group also agreed to phase out government funding for fossil fuel projects internationally – following a leading commitment made by the UK in December.
As a first step the G7 countries will end all new finance for coal power by the end of 2021, matched by increased support for clean energy alternatives like solar and wind. It was also agreed to accelerate the transition away from unabated coal capacity and to an overwhelmingly decarbonised power system in the 2030s.
The G7 has agreed to increase the quantity of finance for climate action, including for nature, in order to meet the $100 billion per annum target to support developing countries.
Measures to tackle global deforestation were also secured, with the G7 committing to increase support for sustainable supply chains that decouple agricultural production from deforestation and forest degradation, including production stemming from illegal land conversion.
Speaking after the event, the Environment Secretary George Eustice said: "For the first time, the G7 has committed to halting and reversing the loss of biodiversity by 2030. This is a major step forward before we host the G7 in Cornwall next month and is a sign of the dedication to accelerate action within the G7 – and beyond – to tackle the twin challenges of climate change and biodiversity loss."
Courtesy: Climate Action