U.S. President Donald Trump has noted a significant decrease in the number of COVID-19 cases across the country in recent days.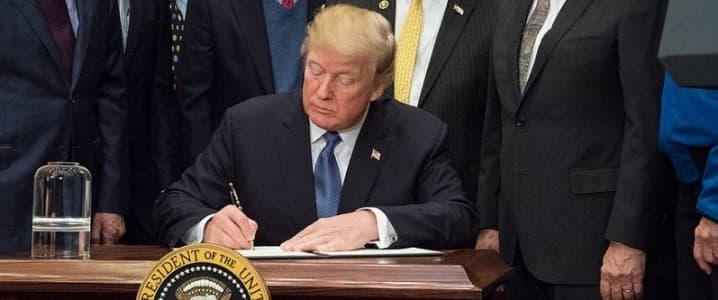 "The number of coronavirus cases is strongly trending downward throughout the U.S., with few exceptions. Very good news, indeed!" Trump said on Twitter on Monday, May 18, 2020.
According to the latest data of the John Hopkins University, a total of 1,486,423 cases of COVID-19 have been confirmed in the U.S.
The number of fatalities stands at 89,550 and more than 268,000 patients have recovered.
In late April, the daily increase in the number of COVID-19 cases in the U.S. stood at around 36,000, while starting from May the daily number of new cases of the infection fluctuates between 18,000 and 27,000.
The U.S. leads the world in the number of reported COVID-19 deaths and confirmed cases.
There are more than 4.7 million COVID-19 cases worldwide and more than 315,000 deaths, according to the data.
President Trump said Monday that he has been taking hydroxychloroquine, an antimalarial drug whose effectiveness against the coronavirus is unproven, for about a week and a half as a preventive measure, saying he had no symptoms of Covid-19.
"All I can tell you is, so far I seem to be OK," he said, explaining that he takes a daily pill.
The Food and Drug Administration issued a safety warning in April about hydroxychloroquine and chloroquine, malaria prevention drugs that have been repeatedly promoted by Mr. Trump and widely used to treat virus patients despite the lack of evidence that they work.
The drugs can cause dangerous abnormalities in heart rhythm in virus patients, the F.D.A. warned, saying that they should be used only in clinical trials or hospitals where patients can be closely monitored for heart problems.
And on Monday a doctor overseeing a national trial said that he agreed.
"There are no data that pre-exposure prophylaxis is effective to prevent coronavirus," Dr. David Boulware of the University of Minnesota, who is overseeing a national trial to test whether hydroxychloroquine can prevent infections, said in a statement. "It may be. It may not be. We do not know. The only way I would recommend taking hydroxychloroquine is within a clinical trial."
Mr. Trump has in recent weeks stopped talking about the drug that he had been touting as a possible miracle cure. But on Monday, he appeared to relish telling reporters that he was taking it, with approval from the White House physician.