U.S. President Donald Trump, again, refused to don a face mask during his visit to the medical equipment distribution centre on Thursday, May 14, 2020 in Allentown, Pennsylvania.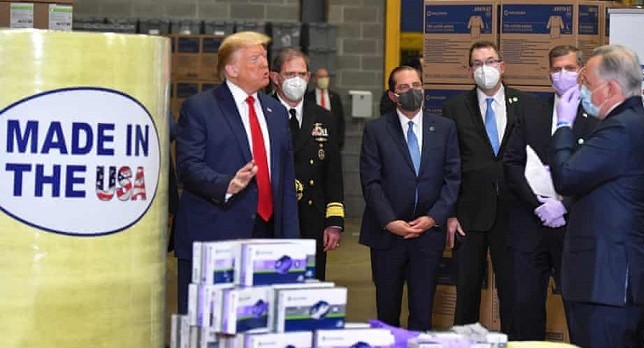 The Owens and Minor Inc. factory, which is 137 years old, has distributed millions of N95 masks and other personal protective equipment to hospitals and health-care workers across the country.
The president visited the plant with U.S. officials, including Health and Human Services Secretary Alex Azar, all of whom were pictured wearing face masks.
Earlier in the week, the president criticised Democratic Gov. Tom Wolf's plan to reopen the state, saying "the great people of Pennsylvania want their freedom now."
The president has consistently declined to wear a face mask in public and while touring manufacturing plants despite the Centres for Disease Control and Prevention (CDC) guidelines urging everyone to wear face coverings and the new White House rules requiring staff to wear them at work to protect themselves and others amid the coronavirus pandemic.
The U.S. has so far recorded 1,453,630 coronavirus cases with 86,774 deaths.