The heavy rain in recent time is resulting in flooded farmlands and smallholder vegetable farmers in Ojo area of Lagos have been counting their losses and expressing reservations over the impact of the peculiar weather condition on their source of livelihood, Kayode Aboyeji writes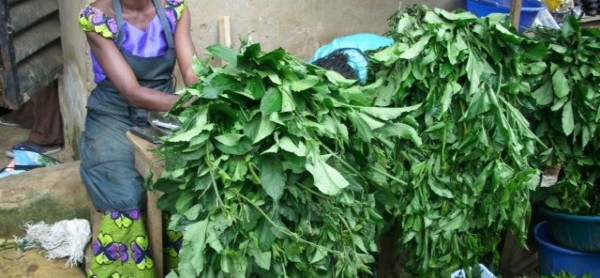 Night is approaching and Lagos housewife, Blessing Aina, prepares dinner for the family. Dinner is vegetable soup and semolina, but she toils with a heavy heart in the kitchen. As she shreds the ewedu leaves, she marvels at how increasingly expensive food items are becoming, and its implications for the family's dwindling economic condition.
But Aina is not alone. Felicia Ayinde, a vegetable farmer in the Ojo Local Government Area of Lagos State, is worried over emerging trends concerning her business, which she is not comfortable with because of declining farm yield. Too much rainfall is flooding the farmland and Ayinde fears she may no longer depend on making a living from farming.
Indeed, besides decrease in yield, the means of livelihood of some 225 smallholder farmers operating under the aegis of the Ojo Vegetable Farmers Association is also being threatened as many of them are now exploring alternative means to support their family.
Blessing Aina, who is apparently at the receiving end, says: "I used to buy ewedu worth of N100 before which will be enough for my family for at least two to three meals, but know I spend close to N200 to prepare the same quantity."
She explains that a bunch of vegetable that sold for N50 before is now sells for N100 or more depending on the area where you are buying from.
Felicia Ayinde laments: "Things have changed. Before now, we used to harvest vegetables every four weeks. But now, if we manage to harvest once in six to eight weeks, we will be happy."
The 56-year-old widow and mother of five continues: "I have been practising vegetable farming here for more than 23 years now, this is where I raised money to sponsor my first two children in school.
"That time the yield from the farm was enough because every four weeks we harvest vegetables that we sell and make money, but now things has changed.
"Vegetables do not like too much rain; they will not grow well. But, in the past few years, the rainfall is too much. It does not allow our vegetables to grow well.
"The year 2012 was the worst year, the rainfall was so much that everywhere was flooded. We cannot plant vegetables inside water," she says.
Another vegetable farmer, Idris Ayuba, also shares his experience: "We are just struggling to survive now. Flood is affecting this work. During the dry season we used to make more money because vegetables do not like too much rain.
"The long period of rainfall these days is affecting us, our yield has reduced greatly."
Chairman, Ojo Vegetable Farmers Association, Samuel Bala, stresses that members are still in the business just to keep body and soul together as the fluctuation and extensive rainfall is affecting them seriously.
According to him, market women come to the area to buy vegetables in large quantity both for local consumption and export to the United Kingdom and other countries overseas.
"But now we can't meet the demand because of the decrease in yield. Rainfall has increased in the recent time and the farmlands get flooded thereby affecting our vegetables," he discloses.
Asked how they are coping with the situation, he explains that farmers have resorted to raise the seed bed higher than what was obtainable in order to prevent flood from washing away the plants.
He adds that at a time they had to introduce water resistant seeds in order to sustain their activities.
Gabriel Akpan, a father of four who has been engaged in the vegetable farming for over two decades, offers: "The farming work is not like what it used to be before. Within a month before, I used to make close to N40,000 whenever I sell my products.
"But now, it has reduced. If I manage to get N10,000 and N20,000 in a month I will be happy. To feed my family well and attend to other bills is now a problem," he laments.
Akpan adds that, with the perceived changes in rainfall pattern, the quality and quantity of their product is being threatened.
The Ojo vegetable farming area comprises large concentration of smallholder farmers that engage in planting of vegetables such Corochorus spinach (Ewedu) and Amaranthus spinach (Tete), among others.
Although most of the farmers are smallholders, majority of them depend on the farming work as their main source of livelihood to sustain themselves and their family.
Vegetables, like fruits, are low in calories and fats but contain good amount of vitamins and minerals. They are a rich source of calcium, magnesium, potassium, iron, beta-carotene, and vitamins B, C, A and K.
Just like fruits, vegetables are home for many antioxidants. These health benefiting phyto-chemical compounds help protect the human body from oxidant stress, disease and cancers, while also helping the body to develop the capacity to fight against these by boosting immunity.
But the provision of these essential body nourishment in Lagos seems to be threatened with the changing climatic system.
A climate change expert, Prof. Olukayode Oladipo of the University of Lagos, points out that the rainfall in the recent time is heavily concentrated.
According to him, because of the intensity of rainfall over a period of time, it leads to flooding that washes away vegetables farms.
The university don adds that the farmers may not get the kind of rainfall they expected particularly this year because the rain does not start early.
He urged the farmers to ensure that they raise their ridges to prevent them from being wash away by flood.