Global business leader and chairman of Heirs Holdings, Tony Elumelu, has said that the group "has the ambition to generate at least a quarter of Nigeria's power consumption needs in the next five years."
Heirs Holdings' interests in the power sector include Transcorp Ughelli Power, a gas-fired, thermal power generating plant which was acquired under the privatisation of Nigeria's power sector.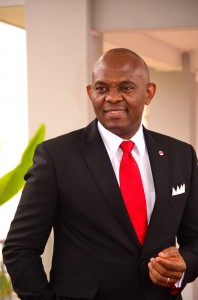 Experience at Ughelli
According to the Heirs Holdings chairman "the power industry is a catalytic sector and the development of our country and our continent cannot happen without fixing it."
He describes the USA's Power Africa Initiative as "an amazing opportunity to democratise access to power for Africans, and the $2.5 billion investment commitment we have made reflects exactly how excited I am about it. The present administration made a bold decision when it decided to affect the changes envisaged by the Power Sector Reform Act – legislation that had been on the books since 2005. And that bold step was reinforced during President Barack Obama's last visit to Africa. We felt more strongly than ever, the need to help power Africa."
He continues: "Our experience so far at Ughelli power plant is testimony to the size of the opportunity; our amazing team has taken that plant from 150MW capacity when we took over in November 2013, to 450MW today; we expect it to increase 700MW by October and to achieve 1000MW by the second quarter of 2015. At that rate, we'll be contributing 20 per cent of Nigeria's total power generation."
Furthermore, he says they are working on a greenfield project that will expand the capacity of Ughelli by an additional 1000MW in the next three to five years and they have signed an MOU with GE and Symbion Power to facilitate this.
Challenges in Nigerian power sector
Elumelu lists three main challenges in the Nigerian power sector, namely unreliable transmission infrastructure, access to uninterrupted gas supply and timely settlement of invoiced payments.
He adds: "In Nigeria, one of the biggest challenges to power generation is transmission and in fact, while Ughelli Power Plant generated at full capacity for the first time in July, we've been asked to scale down generation because of the outdated transmission systems; for every 100MW generated and sent to transmission companies, 40 per cent is lost, in part because of this infrastructure issue."
While regulation is not a key challenge, says the Heirs Holdings chairman, it is an issue within the sector that if addressed, has the potential to speed sector growth exponentially. "We need pragmatic regulation that recognises that within Nigeria, the sector is nascent and so policies must be designed to encourage growth. In fairness, the Federal Government is confronting these challenges head on."
Africapitalism creating social wealth
Elumelu has termed his economic philosophy as "Africapitalism", which he says places more weight on long-term investments in key sectors that drive growth. He explains: "My personal experience also suggests that sustained economic prosperity must be inclusive and must create social wealth.  Africapitalism is my attempt to advocate and promote what has worked for me. We as Africans are uniquely qualified to take the lead and develop Africa. I think we need to be more self-confident in order to create the sort of future our children deserve. All the ingredients for success are here in Africa and investing for the long term in key sectors, our people, and processes, will help to solve our problems and retain wealth within the continent."