American environmentalist and President of Tompkins Conservation, Kristine McDivitt Tompkins, was on Friday, May 18, 2018 designated UN Environment (UNEP) Patron of Protected Areas during an event at the United Nations headquarters in New York.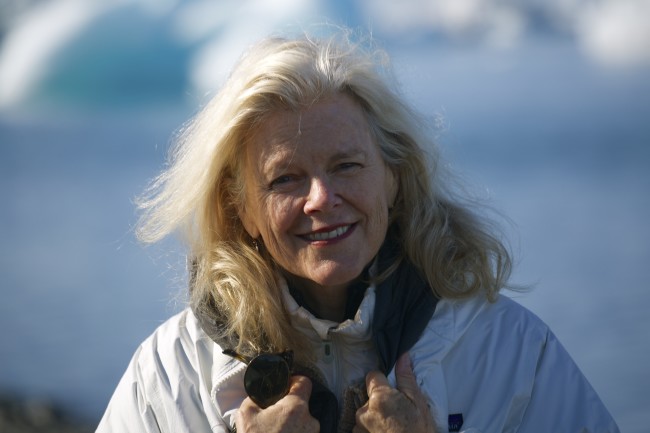 The former CEO of Patagonia, Inc., Tompkins is renowned for her outstanding environmental leadership, and particularly for expanding public protected areas and engaging the business community with the conservation of pristine mountains, grasslands, forests, and wetlands in Chile and Argentina.
Famed for purchasing vast swaths of landscapes in Patagonia and returning them to national Governments in the form of national parks, Ms. Tompkins together with her late husband Douglas Tompkins – founder of The North Face and co-founder of Esprit – and their partners have worked with the governments of Chile and Argentina to create 13 parks spanning five million hectares to date, more than any private individuals in history.
The couple is also recognised for recovering species such as the giant anteater in Argentina, in the areas where they work and boosting jobs and incomes through their conservation effort in territories full of clean water and ancient forests.
In January of 2018, on behalf of Tompkins Conservation, Tompkins donated 400,000 hectares of land to the Government of Chile, which were leveraged with government land to create a new 4.5 million hectares of national park network. Meanwhile in Argentina, Tompkins is leading the creation of Iberá National Park, which is in its final stages of becoming an official national park, with a donation of 150,000 hectares. Tompkins continues taking a leading role in protecting areas, through promoting the creation of new National Parks in Argentina as well as contributing to the creation of protected marine areas undertaken by the Government of Argentina.
As Patron of Protected Areas, Ms. Tompkins will support UN Environment to expand its message of conservation among individuals, governments and business.
"We warmly welcome the support of Ms. Tompkins in highlighting the connection between protected areas and other issues like marine litter, pollution, climate change and the illegal trade in wildlife," said Erik Solheim, UN Environment Executive Director. "We need to nurture a new generation of responsible consumers to act as custodians to our planet."
"The legacy that the Tompkins will leave us is ground-breaking in many areas: the achievements regarding saving biodiversity, park creation, restoration, ecological agriculture and activism with rising of awareness, have allowed immense transformations. The results of your efforts will accompany us and the future generations to come," said Ambassador García Moritán, Permanent Representative of Argentina to the UN.
"It is an honour to be recognised by such a venerable institution as the United Nations. At this moment of human history, we must act to protect what's left of untouched land and sea and work against the extinction crisis," said Tompkins. "I hope that our energy and sense of urgency can inspire and accelerate new ways to work on behalf of nature."
Tompkins is the president and co-founder of the non- profit Tompkins Conservation and was recognised in 2017 with the Carnegie Medal of Philanthropy and in 2016 with the World Tourism Award and the Lowell Thomas Award.