All eyes are on Hurricane Irma as it moves toward Florida, but it's not alone.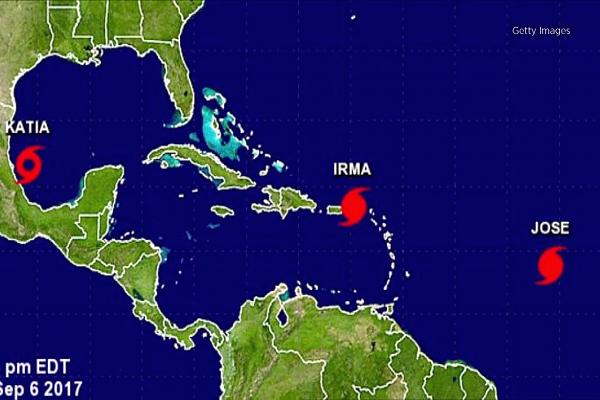 Jose and Katia strengthened in the afternoon of Wednesday, September 6, 2017, bringing the number of hurricanes churning in the Atlantic basin to three.
It's the first time since 2010 that three active hurricanes have been in the Atlantic.
The closest land mass Jose will approach is the northern Leeward Islands, the same ones Irma devastated recently. It's not close enough to cause direct destruction but near enough to bring another potential round of wind and rain to the ravaged islands. Isolated amounts of 10 inches are possible.
A hurricane watch is in effect for Antigua and Barbuda, and a tropical storm watch is in effect for Anguilla, Montserrat, St. Barthelemy, St Kitts and Nevis and Saba and St. Eustatius (all of which were battered by Hurricane Irma days ago), according to the hurricane centre.
Hurricane Jose, which is trailing Hurricane Irma out in the Atlantic Ocean, has strengthened into a Category 4 storm with sustained winds of 150 mph. The National Hurricane Centre announced the change on Friday, September 8 2017, just one day after Hurricane Katia – which is forecast to hit Mexico – strengthened into a hurricane.
Jose sits east of the Leeward Islands and is predicted to move northwest.