The flooding situation at the Evbuotubu Primary School has entered its 12th year, but there is nothing to show that help is in sight for these children
It was 10:00am or thereabout. Abies, a pupil of Evbuotubu Primary School, has just been asked out of the class. She had been down with illness and has not been in school for about a week and half now. Her peasant mother said the nurses at the health centre (not too far from the school premises) had diagnosed malaria. But it looks like there is more to it than meets the eyes.
Abies (not her real name) managed to show up in school today but, midway between her classes, she began to throw up. The "Arithmetic Auntie" (subject teacher) had asked the six-year-old girl to go out of the class so as not to vomit inside the jam-packed classroom and possibly infect the other pupils.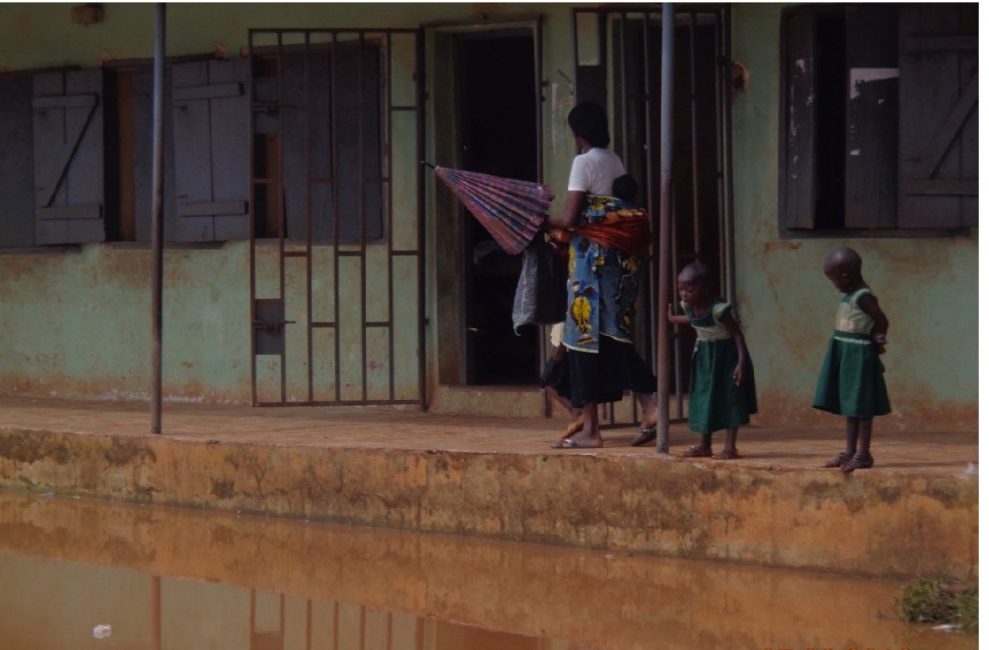 She had barely reached the corridor when her bosom friend and playmate, Kate (not her real name) also in Primary 2, saw her in an unusual position and gestured curiously. "… your belle dey pain you?" Kate queried her friend in pidgin English, meaning "…is your belly aching?'' But Abies was busy battling to keep well. She held her stomach a second time in split seconds and resumed her vomiting. "Doe o!" Kate quipped in vernacular, connoting "Sorry!" "Your belle dey pain you?" she asked a second time, inquisitively. "No. E dey turn me and I dey feel cold," Abies managed to reply at last but instantly resumed the battle for her health.
The day was Thursday, September 27, 2012. The rains have refused to stop and the daily misery, environmental and health hazards and pains borne by inhabitants and indigenes of this expansive community and their immediate neighbours in Egor L.G.A., Edo State are now a normal ritual; and if the predictions by environment and climate change experts were anything to be taken seriously, the following year's rains and its resultant flooding, erosion menace and health havocs would be worse than the 2012 experience – just as the current year's rains and its resultant floods had eclipsed the 2011 flood furies in this part of the Edo State.
Here at Evbuotubu Community, the worst hit victims are schoolchildren: the submerged school buildings threaten to collapse on the helpless children and their teachers. Or, at least, an imminent epidemic might break out sooner or later.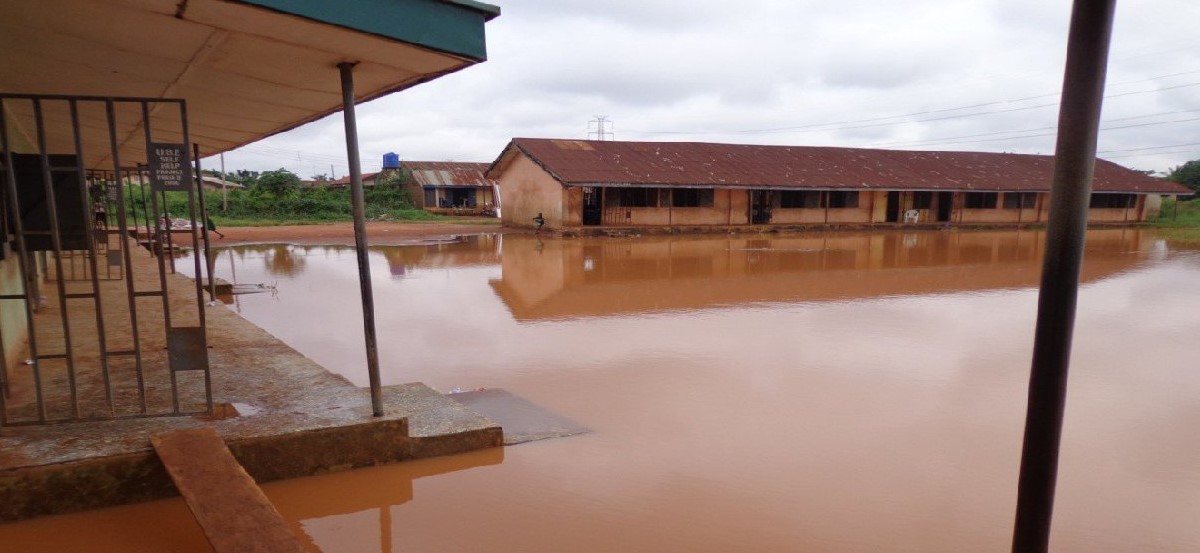 The vice headmistress of the school remarked: "If you are old in this community you will know that the main problem of this school is the community and their leaders. In all my 33 years as a teacher I have been transferred to several communities. I have never seen a community that hates to develop. Here you have a problem that has deteriorated for several years, and yet you couldn't do anything about it as a community; instead, you are adding to the problems. All they are good and fast at is recklessly selling lands without considering the impacts on the land. They keep selling off lands indiscriminately…."
She continued, "Anywhere in the world whenever you want to sell community lands, you first of all consider three basic things: you consider school, market and hospital – these basic essential needs of the people. But here, the community leaders and the people don't care about all of these provided they get money. And you were asking me, you want to find out if mosquitoes bite pupils and if teachers are comfortable working under this condition. I think such questions should not arise at all. From my little knowledge of elementary science, we were taught the various reproduction stages of mosquitoes breeding and multiplying and we were taught that pools of standing water is the breeding ground for mosquitoes. How much more this river and lake of erosion that has taken over the entire school compound for several years!"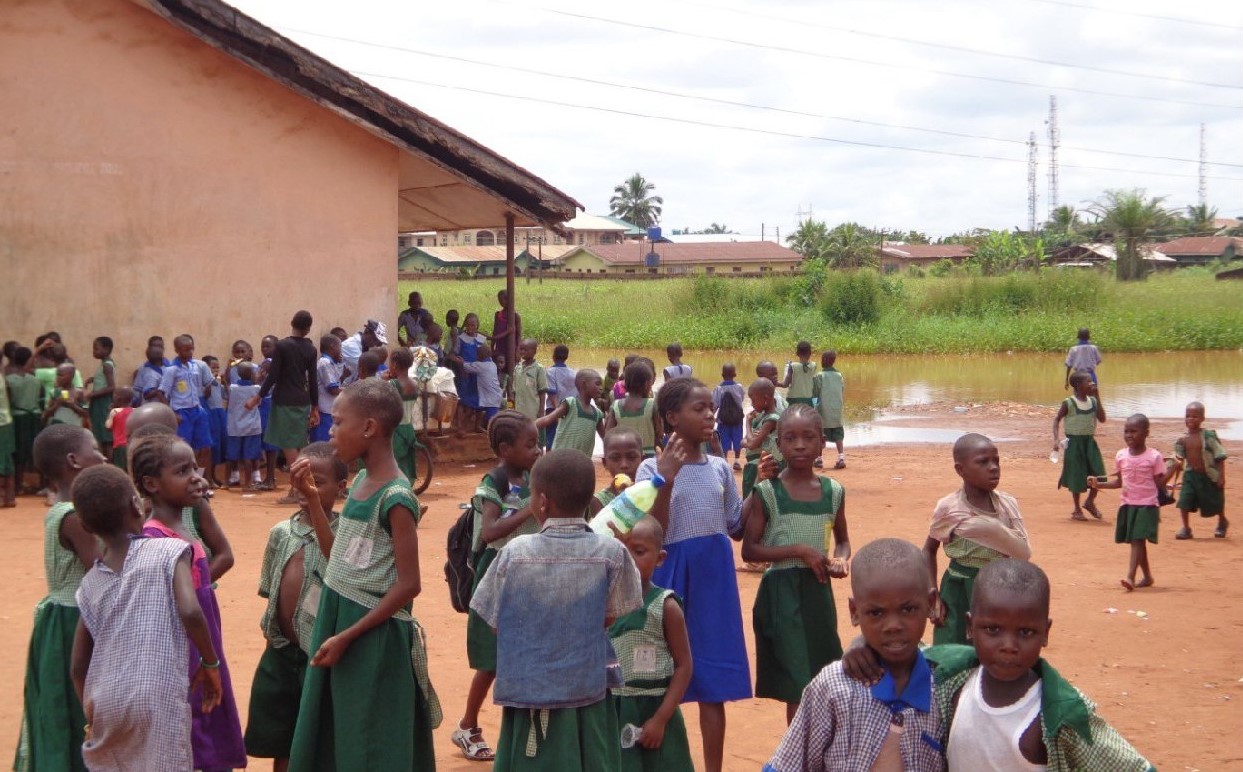 The flooding situation at the Evbuotubu Primary School has entered its 12th year, but there is nothing to show that help is in sight for these children. Year after year they learn under mosquito-infested environment. Their entire school premises have been overtaken by flood and bushes. The school buildings are gradually submerged in flood water.
More embarrassing is the fact that, without a single rebuke from any teacher or school head, these children daily urinate freely on the flood water and everywhere around the few plain spots of land that show up on the school compound once the flood water wanes a little; and they, in turn, swim in the infected water, eat food and snacks that fall on the infected ground, and inhale all the stench and putrid odors emanating from the accumulated urine (and excreta) all around the undesirable environment.
They have no access to drinking water, no functional latrine and no playing field for recreation. And because children must play, they have turned private properties in adjoining roads and people's compounds around the community into their playing fields, and play with gadgets without any checks from the school authorities. Obviously out of the view and control of the school authorities, many of these pupils get injured in the process. They are badly-influenced and sometimes even bullied or abused with much impunity by some bad elements in the community.
The negative impact of the situation on the health, psychology, and self-esteem of these children at Evbuotubu Primary School and indeed the overall academic output and effectiveness of both teachers and pupils are undermined by the recurrent cases of pupils' absentees, truancy, and illnesses like malaria and other water-related diseases such as that which Abies and many other children in the school daily have to contend with.
On Friday, October 11, 2012, I finally met with the Head Mistress of Evbuotubu Primary School, Ogbomo Roselyn Uyi.
Her words: "We are appealing to the comrade governor, Adams Oshiomhole, to please come to our aid here. The community, if I may say, they have really tried their best to make sure that this flood is removed from here. So, a special appeal now, from the head teacher, the staff and the pupils, for the governor to please assist us. We know the work load on him is too much but he should please address our own."
After about 14 months of worsening environmental and health condition of the school and its pupils/teachers, I encountered with the newly appointed Chairman of Evbuotubu Community, Isaiah Eghobamien, at his residence, one Monday morning in 2014.
He disclosed: "We've been crying over this erosion problem over the years, even before we came on board. The State Government did not respond to us at all. There is nothing they did here. All previous administrations promised, and all their promises were in vain – they did not keep to their promise; even the present one. So, you can see by yourself; we've been cut off from the city.
"Honestly, that of the Primary school, we went there several times, even the State Governor went there himself. The Local Government chairman of recent went there. We were to relocate those children now, but God being on our side, we've given land out to build another school. We've even bulldozed the whole area, graded the whole land where we proposed they should build the Primary School. But, up till now, they've not come. So, we are looking up to the State Government, because it's beyond the Local Government; the way things are now in Evbuotubu, it's beyond the Local Government, honestly! But let the Local Government on their own do a little bit they can do. Like what you said – that of the road. Honestly, the Local Government gave us N500,000. And we spent well over N5 million in the grading of the roads.
"The rest of the money came through our communal efforts. Because we had to hire graders, we hired pale-loaders, we hired excavators, and we hired tippers. You can see that, in a day, we spent more than N500,000 in hiring grader, pale-loader, excavator, then tippers to sand-fill the whole area.
"Well, the best we can do is that land we've given to them. I cannot take them to my house, my house cannot accommodate the children, nobody's house can accommodate the children. There is no way we can accommodate the children as of now; but all I'm saying is the State Government should please expedite action before the full rainy season steps in."
In February, 2015, I was at Evbuotubu Primary School on a follow up visit to see the school head over the flooding/health challenges of the schoolchildren and the community leaders' claim of providing a new land for government to relocate the school.
The new headmistress revealed that the that the parcel of land the Evbuotubu Community leadership claimed to have provided for relocation of the school was rejected by the State Government because it was considered too small and the location is not conducive for a school. According to her, government said if the community provided a better land today they (government) will immediately develop it and build a new school.
By Francis Odupute