The Permanent Secretary, Federal Ministry of Environment, Mrs Ibukun Odusote, has said that sustainable farming can go a long way in addressing the climate change phenomenon, which has in recent years attracted global interest.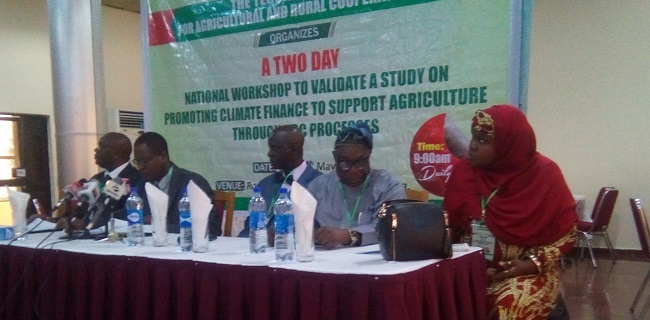 Odusote made the submission on Monday, May 6, 2019 in Abuja in an address at the opening of a two-day validation workshop on "Promoting Climate Finance to Support Agriculture through Nationally Determined Contributions (NDCs) Processes in ACP Countries."
Odusote, who was represented by Dr Peter Tarfa, Director, Department of Climate Change in the ministry, submitted that Nigeria recognises that agriculture plays a key role on climate change mitigation and adaptation.
Her words: "Sustainable farming systems can reduce agriculture's greenhouse gas (GHG) emissions and be a primary vehicle in stabilising and reversing climate change while continuing to provide food, feed, fibre and energy in a change climate. But getting to these climate-friendly agricultural systems requires a shift in focus, research and investment away from industrialised input and fossil fuel intensive agricultural practices toward low-input, resilient agricultural systems that increase carbon sequestration in the soil and lessen output of GHGs."
For these systems to succeed, she added, the nation not only needs a different approach to climate and agricultural policy, but also new thinking on food, energy and trade policies.
"Nigeria's NDCs stipulates emissions reductions of 20-45% by 2030 and the agricultural sector is one of the identified critical sectors in the NDC that will contribute significantly to GHG reduction," Odusote stated.
Lead Specialist, Climate Change, Technical Centre for Agriculture and Rural Cooperation ACP-EU (CTA), Dr Oluyede Ajayi, disclosed that, among the 79 African, Caribbean & Pacific (ACP) states, Nigeria is one of the few countries selected in the effort to support climate finance for agriculture and where a study has been commissioned to document the current status of climate finance for agriculture.
"The workshop is to engage stakeholders on the findings of the country studies commissioned to identify existing scenario on climate finance in Nigeria, discuss mechanisms to support the implementation of climate action for agriculture including models for co-investment from private sector / agribusiness."
According to him, CTA is working with national partners such as Nigeria's Federal Ministry of Environment to identify opportunities from existing policy frameworks like the Nationally Determined Contributions (NDCs) to increase climate finance for the agricultural sector, support agricultural stakeholders to understand the existing frameworks, and how to effectively engage in the policy process with other stakeholders.
National Consultant, Prof. Adeolu Ayanwale of the Obafemi Awolowo University, Ile-Ife in Osun State, made a presentation on "Promoting Climate Finance for Agriculture through Nationally Determined Contributions (NDCs) Processes in Nigeria".
The gathering sought to validate Prof. Ayanwale's report, which is aimed at boosting climate change finance to sustain the nation's agricultural sector – albeit amid increasing climatic uncertainties faced by the sector.