As part of its broader policy advocacy programme, Surge Africa, at a Stakeholders Dialogue on Adaptation and Conservation Policies, convened stakeholders from government-led entities and non–state actors to examine the impacts of climate change in Kano State to chart viable pathways to building a climate-resilient state.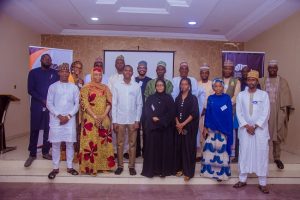 Climate change is said to be severely impacting the lives, livelihoods and socio-economic welfare of Kano, as evidenced by the increased frequency and severity of extreme weather events such as floods and desert encroachment, which have led to fluctuations in crop yield, food security, climate-induced migration and conflicts, and the destruction of essential infrastructures.
Anthropological activities such as logging, rapid urbanisation and unsustainable agricultural practices have exacerbated climate impacts on the local community's livelihoods and economies, as well as the state's adaptive capacity to cope with climate shocks. Pollution from improper waste management, open defecation, tanning industries and petrol-powered generations are major contributors to water and air pollution in the state.
The convening created a platform for a robust and interactive dialogue between the Kano State Government and non-state actors on assessing and addressing climate impacts in the state, as well as setting measures to strengthen climate resilience in the state.
In addition to unpacking the potential of state-led actions, the programme centred discussions around the need for improved conservation and adaptation policies, and the various ways state-level policies can complement national laws and international frameworks and agreements. This extended to introducing the Conserve 10% Policy that is being proposed by Surge Africa to the state, including the opportunities it holds from a social, financial and environmental perspective.
The Conserve 10% Policy seeks to conserve 10% of Kano's state forest land and promote sustainable forest management which will address forest degradation while increasing direct benefits to the people, the environment and the state.
"It was also reassuring to know that the Kano State Government has been proactive in responding to the climate change issues by instituting some measures and interventions including setting up a committee to review existing environmental laws and other related policies, embarking on afforestation drive and environmental awareness campaigns, and restoring forest and grazing reserves," said Aniebiet Obot, Programmes and Policy Manager at Surge Africa.
The organisation stated that it unveiled its Climate Action Plan for the state, which is being developed with the support of key government institutions.
"To round up the programme, stakeholders at the event developed a communique that outlines measures to improve adaptation and resilience and set a roadmap for a climate action plan towards building a safe, climate-smart and resilient Kano State," added Obot.