The Cross River State Government (CRSG) has been asked to halt the bulldozers destroying farms at Etara/Eyeyen and are continuing towards Ekuri and Okuni forests/communities, preparatory to the construction of a highway.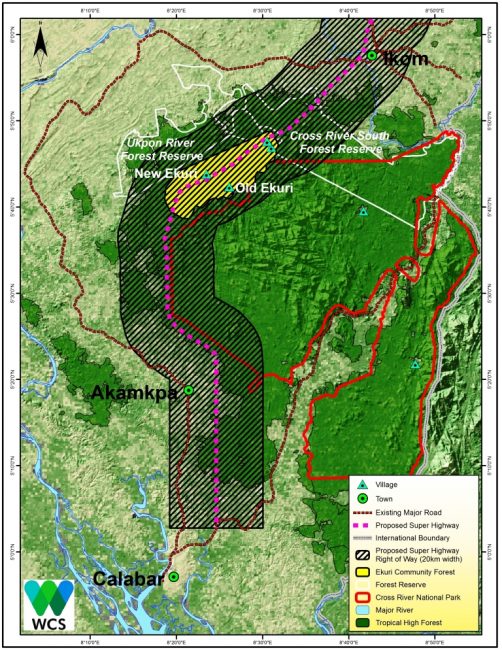 According to the Health of Mother Earth Foundation (HOMEF), the authorities should reroute the Super Highway along a less damaging path and away from community forests and the National Park.
"The government should comply with the laws of the land by conducting an Environmental Impact Assessment (EIA), other relevant assessments and consultations as enshrined in ILO Article 169," submitted HOMEF in a statement endorsed by Cadmus Atake, its Project Officer, and made available to EnviroNews on Monday.
The Benin City, Edo State-based organisation stated that some of the best preserved rain forests in Nigeria are the Cross River National Park and the Ekuri Community Forest, which are both under serious threat of being destroyed to make way for a Super Highway that it believes can easily be re-routed to preserve neighbouring communities as well as enormous biodiversity including rare and endangered species.
The 260km Super Highway is planned to lead from a proposed deep sea port at Esighi in Bakassi Local Government Area, run through the Cross River National Park and up to Katsina Ala in Benue State, Nigeria, at a cost of N700 billion or about $3.5 billion.
With a dramatic and outrageous appropriation of a massive 20.4-kilometre-wide track over 260km length, the Super Highway is a project of monstrous and needless proportions, observed HOMEF.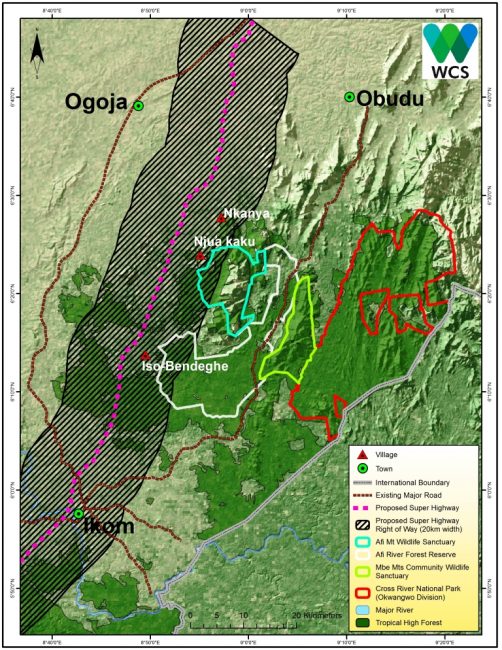 A Public Notice of Revocation signed by the Commissioner for Lands and Urban Development and published in a local newspaper, Weekend Chronicle, on 22nd January 2016 decreed, among other things, that: "All rights of occupancy existing or deemed to exist on all that piece of land or parcel of land lying and situate along the Super Highway from Esighi, Bakassi Local Government Government Area to Bekwarra Local Government Area of Cross River State covering a distance of 260km approximately and having an offset of 200m on either side of the centre line of the road and further 10km after the span of the Super Highway, excluding Government Reserves and public institutions are hereby revoked for overriding public purpose absolutely."
But HOMEF insists that "this is clearly unacceptable under any kind of highway design."
In a petition to the Governor of Cross River State, dated 13th February 2016, the Chiefs and people of Okokori Village of Obubra Local Government Area saw the revocation of the right to their lands including settlements, farmlands and community forest as a calculated attempt to extinguish them as a people.
They concluded: "Since the revocation of all our lands for a Super Highway have damning consequences on us and our environment, we are compelled not to welcome this project as the ulterior motive of your government is to grab our lands and make us worthless, ignoring the fact we voted overwhelmingly for you to better our lot but not to punish us unjustifiably."
In an earlier petition dated 7th February and addressed to the Governor, the Ekuri Traditional Rulers Council stated: "The right of way for the Super Highway measuring 400 metres wide (200m on each side of the road from the centre line), being the width of four standard football fields, is too large and wil destroy our forest and farms that we have laboured to conserve and cultivate crops…The further 10km on either side of the Super Highway from the 200 metres ends totalling 20km width is appalling, meaning that the whole of our Ekuri community forest totalling 33,600 hectares, all our farms and community settlements would have been revoked leaving us landless."
Firmly rejecting the routing of the Super Highway through their forest, the Ekuri Chiefs added that "Our forest is our wealth and the beacon of our hopes and aspirations."
Many things are wrong with this planned routing of the Super Highway, declares Nnimmo Bassey, Director of HOMEF, adding that, if allowed to proceed along the path that has been planned, it would destroy the aforementioned forests and equally impact other forests and communities.
"We find it unacceptable that a project of this magnitude is pursued without regard to the law and in defiance of the rights of communities," he said, adding: "Although the President conducted a ceremonial ground breaking exercise on 30th October 2015, that cannot be construed to mean an approval for the project to proceed without meeting the requirements of the law, particularly that of Environmental Impact Assessment. Moreover, as required by law, an EIA cannot be claimed to have been conducted if there are no consultations with citizens that would be impacted by the project."
Observers think the project may be a cover for land grabbing, illegal logging and poaching and the destruction of habitats in the forests and reserves that are protected by law and preserved by custom. They question why a project of this nature would reportedly enjoy contributions from Nigerian banks without requisite preliminary surveys, plans and approvals.
The affected communities stressed that "besides the fact that the proposed route was going to cause untold damage to the globally important park, it also demonstrated that the route had been selected without looking at a contour map, let alone having an engineering survey."
Chief Edwin Ogar of Ekuri community said: "The destruction of Ekuri and other community forests because of the revocation for a super highway will aggravate climate change crisis with dire consequences on humanity in general particularly among the poor."