Stakeholders in the maritime industry have formed a collaboration to combat and eradicate illicit, unreported, and unregulated (IUU) fishing in Nigerian waters.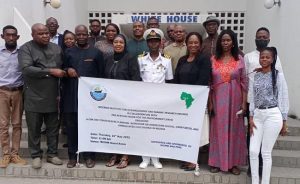 In establishing the alliance at a workshop held on Thursday, May 19, 2022, at the Nigerian Institute of Oceanography and Marine Research (NIOMR) on Victoria Island in Lagos, Anthony Akpan, President of Pan African Vision for the Environment (PAVE), emphasised the importance of broader stakeholder participation in addressing the menace of IUU fishing in Nigeria.
Akpan revealed that the alliance would use a variety of techniques, including networking, advocacy, capacity building, and awareness campaigns, among others, to fight against the IUU fishing menace.
He also emphasised the importance of better collaboration with civil society organisations (CSOs) to promote awareness and guarantee that the threat of IUU fishing is addressed.
On his part, Prof. Abiodun Sule, Executive Director of NIOMR, stated that IUU fishing was one of the most serious threats to the marine ecology.
He explained how IUU fishing has the potential to damage national and regional efforts to manage fisheries sustainability and marine biodiversity.
According to Prof. Sule, the threat of IUU fishing thrives on corrupt government and a weak management system.
The ED also revealed that the Nigerian Federal Executive Council recently authorised the ratification of the Port State Measures (PSMA).
The PSMA is the world's first and most important international agreement/treaty aimed specifically at addressing illegal, unreported, and unregulated (IUU) fishing.
The primary goal of the Port States Measures Agreement (PSMA) is to prevent, dissuade, and eliminate IUU fishing by prohibiting IUU fishing vessels from utilising lawful ports to land their catches.
The PSMA was accepted by the United Nations FAO Conference in 2009 and became effective on June 5, 2016. It was immediately signed by over 25 governments, ensuring that the treaty passed the threshold needed to enter into effect; the treaty now has 55 signatories.
"As more governments sign on to the pact and demonstrate their commitment to combating IUU fishing, the gaps that allow illegal fishermen to slip through should close," said Sule.
Tagged addressing IUU fishing in Nigeria, the workshop brought together key stakeholders including policy makers, lawmakers, maritime stakeholders in the private sector and CSOs to facilitate, plan and lead on addressing IUU fishing in Nigeria, through knowledge sharing, capacity building and networking.
By Ayomide Emeka Joseph