The Shell Petroleum Development Company (SPDC) has won the 2015 Local Content Operator of the Year Award by the Petroleum Technology Association of Nigeria (PETAN), in recognition of its achievements in embedding Nigerian content in the oil and gas industry in Nigeria. SPDC was commended for many initiatives that have promoted Nigerian content including the domestication of original equipment manufacturing services; contractor funding schemes; and the collaboration with PETAN on similar programmes and projects.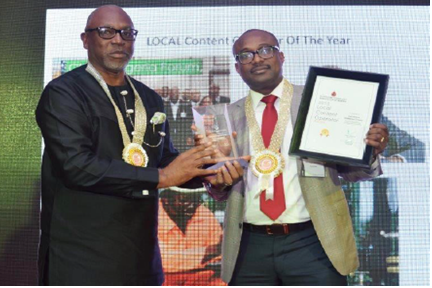 "The award is a strong endorsement for the many successful interventions we have made in the Nigerian content space and an impetus for us to continue to grow indigenous capacity for the industry," said SPDC's General Manager, Business and Government Relations, Simbi Wabote, while receiving the award from the Executive Secretary of the Nigerian Content Development and Monitoring Board, Denzil Kentebe.
PETAN, an association of Nigerian indigenous technical oilfield service companies in the upstream and downstream sectors, also honoured the former Managing Director SPDC and Country Chair Shell Companies in Nigeria (SCiN), Mutiu Sunmonu, with the PETAN Chairman's award in recognition of his support for in-country capacity development. SPDC and Mr. Sunmonu were among corporate bodies and individuals who were honoured at the 10th PETAN Annual Oil Industry Awards Dinner held in Lagos recently.
PETAN Chairman, Emeka Ene, commended the awardees for their efforts, and described 2015 as "a year of celebrating the industry and those who helped to move it forward." He said that Nigeria should continue to actively encourage the development of indigenous manpower and service providers in order to engender lasting growth in the oil and gas industry.
SPDC and other Shell companies in Nigeria continue to make a major contribution to developing the country's human capital and contracting capacity. Some 90% of SCiN contracts were awarded to Nigerian companies in 2014. Their Nigerian content development policies are hinged on indigenous asset ownership and development of human capacity and supplier services. For example, since 2010, SPDC has awarded five-year contracts for the building of 14 vessels to Nigerian companies to encourage Nigerian firms to play more active roles in the maritime sector.  Ownership of key assets such as rigs, helicopters and marine vessels is another area of key focus.
It is recalled that PETAN had in 2013 honoured Shell Companies in Nigeria with the Local Content Operator of the Year award.