Though considered the fifth largest producer of global palm oil, Nigeria has over the years grappled with inability to produce enough for sustainable export as a good percentage of palm oil production in the country comes from dispersed smallholder farmers.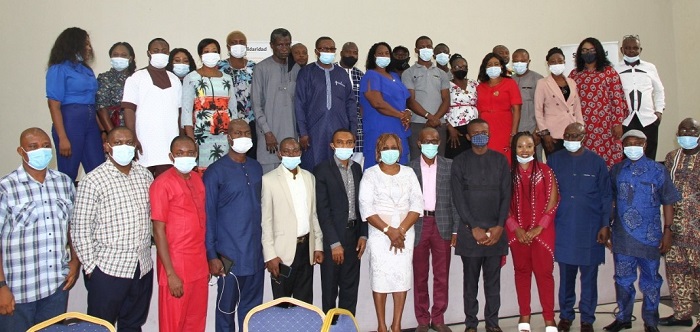 To reverse the trend and boost the economic potential of oil palm cultivation and processing in Nigeria, Solidaridad West Africa, a solution oriented civil society organisation, has for some years now been standing in the gap to assist smallholder farmers have access to Round Table on Sustainable Oil Palm (RSPO) certification. Such certification is said to be the only platform for exportation of oil palm products.
With this initiative, intended to change the livelihood and economic status of the smallholder farmers in Nigeria, Solidaridad West Africa has been working with this class of farmers and national stakeholders to advance this mission.
Having worked with smallholder farmers in Akwa Ibom, Cross River, Kogi and Enugu states of Nigeria on implementation of the National Initiatives for Sustainable and Climatic-Smart Oil Palm Smallholders (NISCOPs), designed to improve performances in building capacity to implement best management practices, improve palm extraction rate and quality, ensure competitive palm sector through policy and institutional dialogue and influencing as well as improve access to finance, inputs and markets for oil palm smallholder farmers and SMEs, Solidaridad took two days off to appraise its activities.
At the CSO-wrap up workshop in Uyo, the Akwa Ibom State capital, the solution oriented civil society organisation engaged four CSOs and the media from each of the four aforementioned states to mobilise and sensitise its target publics and other members of the public on improving sustainable productivity in the oil palm sector, and on its communication policies.
Reports from the four pilot states indicate that the Solidaridad teams in each of their communities of interest identified and worked with strong farmer groups, community leaders, women and youth groups and other opinion leaders in their communities of interest through Community Facilitators who work as liaison officers.
Field reports as presented by representatives of the four pilot states on NISCOPS programme indicate, quite interestingly, that some communities and states were in good standing as shown by the willingness on the part of members of such communities to participate in the programme. The reports also showed a remarkable improvement on palm cultivation across the pilot states.
Some of the reports presented by the CSO however gave an indication of some work to be done to further convince members of other communities to take active part. Notable among such challenges include marginalisation of women and youths in some communities, hostile youths, late release of funds, bad road network and inability of some groups to fully establish and run their Village Saving and Loan Association (VSLA).
A state-by-state review of field experiences on achievements, challenges, lessons learnt and way forward across Akwa Ibom, Enugu, Kogi and Cross River states identified means of transportation, communication and access to water supply as some of the field challenges experienced during the previous year. The CSOs were however guided on the way through the few notable challenges as part of the action plans for 2021.
In addition to the opportunity provided for a review of field experiences, challenges and lessons learnt, the workshop further extended room for a review on how groups are organised. Benefiting local government areas and communities were also identified. The occasion also handed down a communication policy for media and CSOs working with Solidaridad West Africa.
Guided by these field reports, the CSOs were advised by Dr Samson Samuel Ogallah, the Country Technical Lead of Solidaridad West Africa, to continue to focus on mobilisation of Community Facilitators (CFS), the media and community leaders, but with well-defined job descriptions.
Explaining the essence of the workshop, Dr Ogallah informed the Akwa Ibom State Government that Solidaridad West Africa has since 2017 been working in the state on major intervention in the oil palm sector and has recorded major breakthroughs.
Ogallah said gathering the CSOs and the media from the four pilot states was to update such critical stakeholders on how the organisation has been working with all the actors at the state level, and to create room for exchange of ideas from each of the four states on the "journey so far and journey ahead".
The Commissioner for Agriculture, Akwa Ibom State, Dr Gloria Edet, in her goodwill message on the occasion advocated the need for incorporation of media practitioners into large-scale agricultural sector, to enable them to diversify their sources of income and also become millionaires, just like other successful farmers.
Represented by the Permanent Secretary, Ministry of Agriculture, Akwa Ibom State, Mrs Mary Ukoette Bassey, the Commissioner reeled out agricultural interventions of the host state government and used the opportunity to applaud Solidaridad for also helping in the sustainability of the environment, in addition to the ongoing national initiatives for sustainable and climate-smart oil palm smallholders in West Africa.
Edet specifically commended the four pilot states for building on palm cultivation and urged participants to take seriously the implementation of what has been taught, adding that Akwa Ibom State is serious with the agricultural sector and would soon produce onion, in addition to its large-scale tomato cultivation and export.
It will be recalled that Solidaridad West Africa had in a previous engagement in Akwa Ibom State declared oil palm business a more dependable income earner than crude oil and had pledged to work to equip the youth and women in its pilot states with needed intellectual resources to take active part and benefit from the value chain of oil palm.
It will also be recalled that Mrs Priscilla Affiah of Climate Change Network Nigeria, one of the CSOs working with Solidaridad West Africa, had in a previous engagement disclosed that Solidaridad West Africa has been working to promote equal opportunities for women, as well as "protect the children while doing this".
Her words: "The current practice around palm business is not giving yield, therefore making the business unattractive and created the need for the NGO's intervention to promote the production, extraction and sales of oil palm products."
By Idongesit Ashameri, Uyo