Lake Chad basin that happens to be an endorheic lake ( a closed drainage basin that retains water and allows no outflow to other external bodies of water) is bordered by four different countries including Chad, Cameroon, Niger and Nigeria on the edge of the Sahara Desert. The name Chad is a local parlance meaning 'a lake' or 'large expanse of water'. The primary inflow of this lake is from Chari River and empties its water into the Soro and Bandele depression.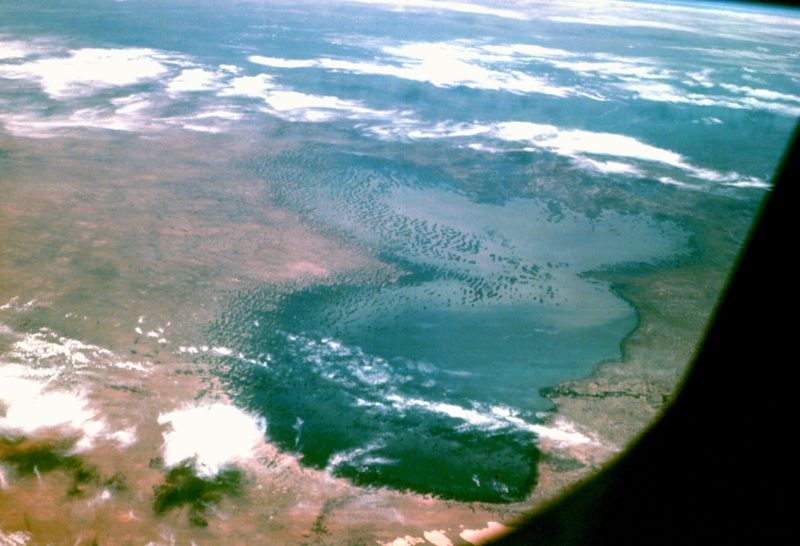 The Kanuri people are one of the earliest settlers around this lake in far northern Nigeria with fishing and farming as their major occupation. According to historians, Lake Chad Basin was the remnant of former inland sea, named paleolake Mega-Chad.
It was, however, considered by the Europeans in 1823 as one of the largest lakes in the world. But, ironically, this lake has continued to shrink over the years due to shifting climate patterns, according to the United Nations Environment Programme (UNEP) and the Lake Chad Basin Commission. More so, an alarming increase in population and unsustainable human water usage are some of the factors responsible for this disappearance over time.
Coe and Foley in their article titled "Human and natural impacts on the water resources of the Chad Basin" stated that "according to the Global Resource Information Database of the United Nations Environment Programme, Lake Chad shrank as much as 95% (25, 000km2 to less than 1,500km2) from about 1963 to 1998". It is no gain saying that this unprecedented change was caused largely by overgrazing, which resulted in desertification, and decline in vegetation affect millions of dwellers, all of whom depend on the lake as their main source of livelihood. They rely on the lake for drinking, irrigation and feeding. This unabated shrinking led to the extinction of hundreds of species of animals that rally this region and also attests to the reality of climate change.
We should know and hold this singular fact in mind that when people's source of livelihood is being threatened, crime and other social vices will become cheap and rampant. This gives credence to the battle of ownership experienced in the Chad Basin region. The Fulani herdsmen need it to feed their wandering cattles, the local farmers are not left out in their own quest for irrigation and the fishermen want it to stay in shape for hunting prey.
This amongst many other things resulted into violence as to right of ownership. As if that is not enough, poverty, hunger and hatred will continue to spread like pandemic in this volatile region if government fails to restore hope. Boko Haram festered in this region for years because most of the inhabitants have lost their livelihood and want a means of survival by hook or by crook.
Mahatma Gandhi could not have said it better when he opined that "poverty is the worst form of violence". Therefore, in order to forestall future occurrences of terror in this volatile region, the government must swiftly take action by funding numerous programmes. There should be a project centered on Lake Chad's reversal, underlining a germane aspect of the climate change. The indigenes should be sensitised in their local parlance through their leaders in gatherings, seminars and symposiums on climate actions in order to achieve the Sustainable Development Goal 13 (Climate Action). Skill acquisition and empowerment programmes should be flagged-off through vocational centres so as to reduce poverty and avert violence of all forms in the future.
By Alabede Surajdeen (environmentalist and SDGs advocate; alabedekayode@gmail.com; @BabsSuraj)