The Minister of Water Resources, Mr Suleiman Adamu, on Thursday, April 5, 2018 raised an alarm over continuous shrinking of water dammed by the Goronyo Dam in Sokoto State.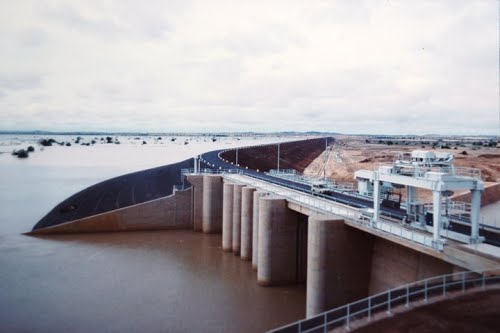 Adamu told the News Agency of Nigeria (NAN) in Abuja that this had shown the impact of climate change as it was affecting livelihoods in parts of the country.
He said the ministry had carried out assessment of the dam two years ago, with obvious devastating evidences, saying that the recent visit had revealed an immediate threat.
"Well, I am really shocked about what I saw, you will probably recall that, in less than two years ago, I was there and was marvelling at the amount of water that remained in the dam.
"And to come and see this desolate place in less than two years, I think it is mind bugling.
"Obviously, we can see the effect of climate change right on our doorsteps, for those that were sceptical about it, this is real''.
He said Goronyo Dam, which was the second largest earth dam in the northern part of the country, was built to store one billion cubic metres of water, saying that its reduction to only 10 per cent of its required storage was alarming.
"We didn't expect this from such a large dam, but then for the fact that it has happened showed that we have a serious challenge of climate change,'' he said.
The minister said the ministry would set up a technical committee, which would consists of team of experts to look at the issues, saying that climate change was not the only issue affecting the dam.
Adamu listed poor watershed management, deforestation, irrigation system, waste and poor management of hydrology in the catchment area as some of the factors affecting the dam.
He urged the National Assembly to pass the bill on the National Water Resources to enable the establishment of a comprehensive law to allow setting up of a catchment modelling committee to manage Nigeria's water bodies.
According to him, the idea of desilting the dam is not an option as there will be the issue of where to drop the spoils. This will be too expensive to do, he adds.
"It would be better to look for another location to build another dam than to talk about desiltation, we are not ruling it out; we will allow the experts to look at it and advise us holistically.
"There is no quick fix about this; this is a natural phenomenon we are dealing with, if we are lucky, God in his infinite mercy may decide to make the rain to fill up the dam again to the brim.
"I am very optimistic about this, anybody that understands hydrology knows that there is a cycle, there is drought, low rainfall and high rainfall, and hopefully it will not happen again."
The minister said there was the need for all Nigerians to learn from how poor management affected water resources potential, saying that steps must be taken to reverse this trend.
By Tosin Kolade