The Lagos State government has been asked to continue to showcase the benefits of its tree planting initiative, as a climate change mitigation and adaptation measures, to other parts of the country. Under the initiative, the state has within the past seven years planted over five million trees.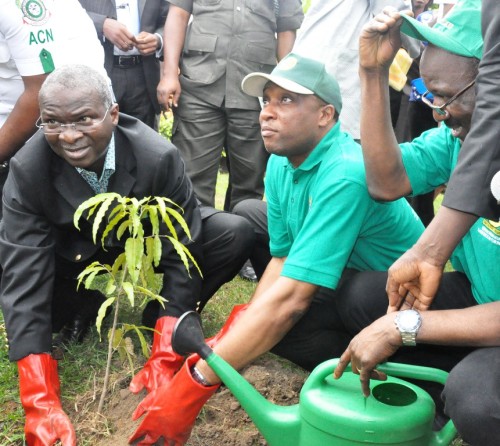 This formed one of the numerous resolutions at the 7th Lagos State Summit on Climate Change held last week. It had "Seven Years of Climate Change Governance in Lagos State, Celebrating Success Stories, Reviewing Challenges and Setting Future Agenda" as its theme.
Participants at the three-day conference described tree planting is an effective mitigation measure for reducing the impact of climate change, pointing out that urban reforestation, in particular, is a laudable approach to improving carbon sequestration of urban areas and mitigating climate change-induced urban heat island.
While observing that climate proofing agriculture and its resilience to variations in climate is critical for sustainable food security in the state, delegates submitted in a communique released at the close of the summit that the state should likewise look into the feasibility of enriching its remaining forest areas in the context of REDD+ (Reducing Emissions from Deforestation and Forest Degradation) to create financial value for carbon stored in forest, address the drivers of deforestation, enhance its carbon sequestration for climate change mitigation, and provide additional means of livelihoods for the concerned communities.
Some other recommendations in the communique are listed to include:
developing a climate change information management system in which all research outputs are catalogued and widely disseminated on a regular basis;
putting technology in place to reduce GHG emissions from waste;
encouraging youths and getting them involved in the development of climate change mitigation technology;
pursuing a strategic alignment with the private corporate organisations in the fight against climate change and promote research, development, demonstration and deployment (RDD&D), particularly in the development of technological response to the challenge.
putting into place a positive innovative, policy environment and strengthen existing regulatory framework, including tax incentives and governance mechanisms which will promote public and private investment in climate change mitigation projects;
creating a Lagos State Green Fund (inspired by the Lekki Free Trade Zone) to leverage funding from all sources – state, federal, bilateral and multilateral financial institutions – to promote green employment generation, investment, and innovation;
establishing a Lagos Green Eco-Innovation Forum that will be mandated to spearhead efforts to promote and intensify Nigeria's (and African) efforts to meet climate change targets and goals through entrepreneurship and philanthropy.
creating a capacity building and mentorship training programme to assist associations to have access to funding opportunities, and to intensify links and networks with institutions that have expertise in climate change mitigation;
explore the feasibility of facilitating a national summit on climate change, in collaboration with the Federal Government, to share its best mitigation and adaptation practices and encourage other states to join the national fight against climate change;
continue to work closely with civil society organisations in the fight against climate change;
continue to support the African Coastal Cities Climate Change Vulnerability and Adaptation Planning Project towards making Lagos more resilient;
involving relevant stakeholders on a continuous basis in the execution of the Eko Atlantic City Project to ensure sustainability;
ensure continuity in the implementation of the model city plan within the existing legal framework to further climate proof Lagos; and,
explore the possibilities of developing a framework for the construction of energy efficient houses for both low and middle income earning residents of the state.
While declaring the summit open, Governor Babatunde Fashola noted that since 2009 the climate change summit has been a principal vehicle for attracting required attention to environmental challenges. He stressed the need for mankind to reflect on the threat posed by the continuous exponential growth of the world population to the sustainable exploitation and use of natural resources.
Fashola highlighted achievements made by government in the past seven years in mitigating the effects of climate change, adding that most of government's actions emerged from the outcomes of the summits.
Besides the planting of five million trees, he listed the outcomes as:
the Eko Atlantic City Project as an adaptation measures against climate change-induced sea level rise;
improved Waste Management and Transportation;
the Lagos, Akute and Alausa Independent Power Projects which are gas fired and which lead to the decommissioning of over four hundred diesel fuelled electricity generators;
creation of over one hundred Parks and Gardens across the State; and,
establishment of the Lagos State Parks and Garden Agency (LASPARK).