Nigerian entertainer, Yemi Alade, has taken the lead in spreading Shell's #makethefuture campaign which aims to inspire youths and entrepreneurs for bright energy ideas that can help in the global quest for more and cleaner energy.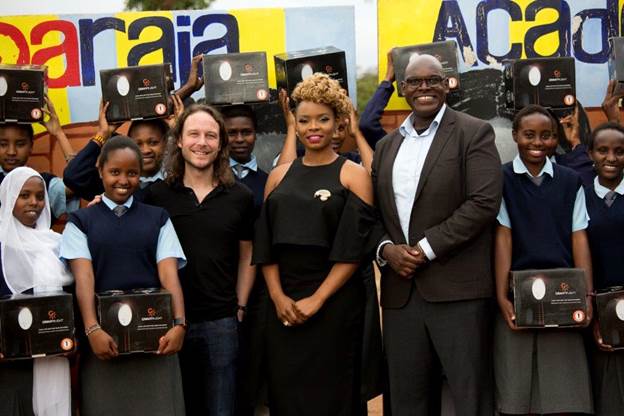 The multiple award nominee and winner of the 2015 MTV African Music Award for Best Female Artist joined Shell-organised 50 Night tour of Kenya last week to celebrate the benefits and installation of GravityLight in some Kenya communities after she united with Oscar-winner, Jennifer Hudson, and four other music stars in Rio, Brazil on Best Day of My Life music video for #makethefuture.
GravityLight, one of seven energy ideas celebrated in Rio, Brazil in October by Shell, offers a clean, safe, affordable and reliable alternative to other fuel sources including kerosene lamps, which are used in homes by millions of families in Africa, including Nigeria. The low-carbon innovation does not need batteries or sunlight and costs nothing to run. It works by connecting an elevated bag filled with 12kg of rocks or sand to a pulley system. Each time the weight descends to the ground it powers a generator to create 20 minutes of light.
"The event in Kenya brings closer home how innovations and collaborations can help bridge the energy divide in the face of a rapidly growing global population," said the Managing Director, Shell Petroleum Development Company and Country Chair, Shell Companies in Nigeria, Mr. Osagie Okunbor. He added, "By continuing the conversation on providing a wider, more sustainable mix of energy resources for the world's growing population, Shell is provoking thoughts on tomorrow's solution, and supporting young entrepreneurs through our 13-year-old LiveWIRE programme."
Speaking on the relevance of her music to Shell bright energy ideas campaign, Yemi Alade said her music offered a good platform to draw attention to the energy needs of the world with strong appeal to engaged millennials who form the bulk of her fans. "Music offers a good platform and this is particularly true in Nigeria where we are working hard to provide the energy the nation badly needs to develop. In my music, I try to encourage people to look at the innovative side of life and this is what the 'makethefuture seeks to achieve in the energy space. I'm pleased to be part of the energy train," she said.
"GravityLight is really close to my heart as it's an invention that solves a problem I know only too well. For many years as a girl, I had to use candles and kerosene lamps for hours while studying at night. Now with GravityLight, people have a safer way to study and families can have quality time in evenings. Being part of #makethefuture has been amazing – I've seen how it changed lives in Rio, and it's moving to see it do that again in my home continent," she added.
Other bright energy innovations being supported by Shell are:
Bio-bean – which explores how to reduce the UK's CO2 emissions from transport by turning coffee dregs into a sustainable transport fuel,
Capture Mobility – demonstrates how roadside turbulence from cars and trucks can generate clean power for local communities,
MotionECO – uses waste cooking oil to help to create a market for renewable diesel in China (in transport, public services and logistics) and discourage the harmful reuse of cooking oil,
Pavegen – converts power from footsteps into renewable energy that can power a community, and
Shell Eco-marathon – a global competition that sees students design ultra-efficient cars, and challenges them to see which can travel furthest on one litre of fuel.