More than 20 Nigerian and 60 Chinese suppliers met in a strategic sourcing development forum in Shanghai mid-November 2017 in a recent effort by Shell Nigeria Exploration and Production Company (SNEPCo) to boost the capacity of indigenous vendors in the oil and gas industry.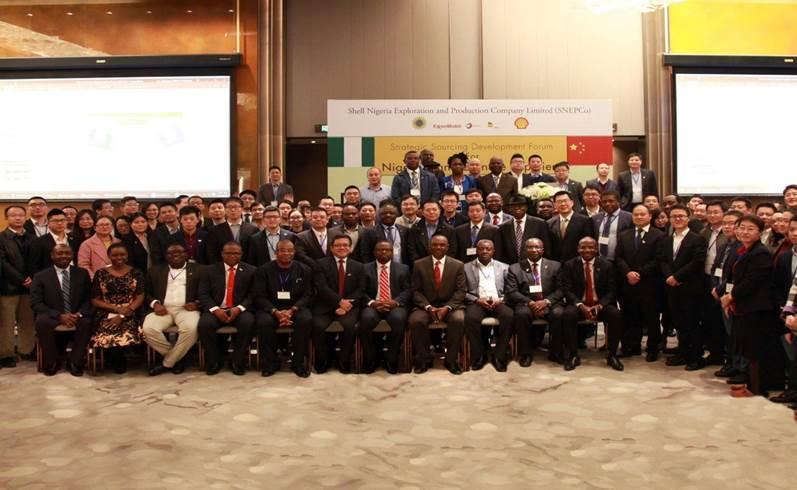 Coming shortly after the 4th edition of the Global Nigerian Forum in Aberdeen, Scotland, the latest event, which held in a global financial powerhouse with the world's busiest container port, offered the Nigerians a compelling opportunity to engage their Chinese counterparts on cost leadership, more efficient supply chain and transfer of technology.
In an opening speech, the General Manager of Shell China Strategic Sourcing Development, Ding Hiu Kwong, said local content development is not peculiar to Nigeria but a global trend, and Shell continues to focus on safety, quality and cost reduction in its quest for growth through strategic sourcing in China.
Director of Monitoring and Evaluation at the Nigerian Content Development and Monitoring Board (NCDMB), Tune Adelana, who represented the Executive Secretary, thanked Shell Companies in Nigeria for pioneering the effort to create collaboration between Chinese and Nigerian suppliers. He challenged the Chinese to establish visible presence in the Nigerian oil and gas industry and compete with the other international companies that are taking the lead in major projects.
Vice Chairman of the Petroleum Association of Nigeria (PETAN), Geoff Onuoha, who said Nigerian companies were keen to develop partnerships and effective collaborations for better service delivery, lauded Shell "for the tenacity and commitment in pioneering a game changing initiative."
The NAPIMS Group General Manager, represented by Alexander Chukwu, enthused: "We expect to see the birth of new joint ventures and collaboration between Nigerian and Chinese suppliers."
He advised the delegates to look beyond the event and take advantage of the opportunity to deploy technologies and solutions that deliver quality services and reduce cost.
SNEPCo's Nigerian Content Development Manager, Austin Uzoka, said there were many areas in which Nigerian and Chinese suppliers could collaborate in the oil and gas company and that Shell would continue to provide the required opportunities within the limit of its resources and operations.
The Nigerian suppliers also visited some companies, such as Neway valves, the world largest valve manufacturer; Sulzer Pumps, Hilong and MSP Drillex facilities to help deepen their appreciation of best practices. The Chinese suppliers, on their part, obtained guidance on business development and capital investment in Nigeria, even as they set up initial connections with potential Nigeria partners. SNEPCo's Contracting and Supply team will track the identified cost opportunities and work to embed them as part of an overarching cost reduction drive and faster supply chain transactions.
The Nigerian and Chinese companies found the network session rather useful, going by submissions.
"This event was beyond my expectation for a maiden edition. It has exposed our organisation to significant opportunities and immediate benefits to us and Shell through alternative sourcing," said Tunde Oduwole of Future Oilfield Services (Nigeria) Limited.
Molly Zhu Xiuping of Morimatsu (China) Group saod: "The workshop helped us to understand the opportunities in Nigeria and how to do business in Nigeria. It was worth my while and I hope to develop further partnerships with the Nigerian company that has agreed to visit our facility here in China."