The Minister of Health, Dr Osagie Ehanire, has said that exposure to second-hand smoke from tobacco is a leading preventable risk factor for non-communicable diseases (NCDs).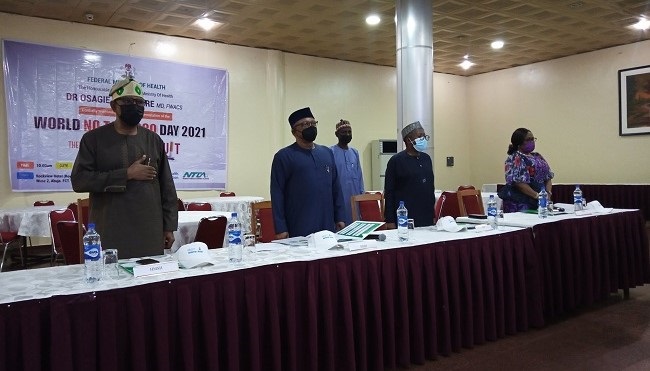 Ehanire said this on Monday, May 31, 2021 in Abuja during a news briefing to mark the 2021 World "No Tobacco Day" with the theme "Commit to Quit".
He listed some of the diseases as hypertension, stroke, cancers, diabetes and chronic obstructive pulmonary diseases.
Ehanire said that the objective of the day was to advocate strong tobacco cessation guidelines and programmes.
He said others were to promote increased access to tobacco cessation services such that at least 100 million tobacco users worldwide were offered help and empowered to make successful attempts to quit the use of tobacco.
According to him, it will help raise awareness on tobacco industry tactics.
Ehanire quoted the World Health Organisation data as saying: "There are more than 1.3 billion tobacco users in the world, and that tobacco is in one way or another responsible for more than eight million deaths each year.
"Also more than seven million of which are as the result of direct tobacco use, while around 1.2 million are the result of non-smokers being indirectly exposed to second-hand smoke.''
He said further that findings from the 2012 Global Adult Tobacco Survey (GATS) showed that 5.6 per cent Nigerians, 15 years and older, currently use tobacco products of which 3.9 per cent are smokers.
"The GATS result further shows that 45.4 per cent of the smokers had attempted to quit in the past 12 months prior to the survey, of which 61.1 per cent attempted to do so without any assistance.
"Also, 15 per cent tried counseling and 5.2 per cent tried pharmacotherapy.
"The death toll from tobacco is high in Nigeria as the Tobacco Atlas of 2018 report estimates more than 16,100 deaths from tobacco-related diseases every year."
The minister said that another research finding published in 2021 by the Centre for the Study of the Economies of Africa showed that 29,472 deaths in Nigeria were attributable to smoking.
Ehanire said that in other to tackle the tobacco menace Nigeria signed and ratified the WHO Framework Convention on Tobacco Control (FCTC) in 2004 and 2005, respectively.
According to him, in furtherance of the WHO FCTC, Nigeria enacted the National Tobacco Control Act 2015 and the National Tobacco Control Regulations 2019.
He said that the offer of support to quit tobacco use was one of the best buys in tobacco control measures, collectively called the MPOWER.
"M = Monitor tobacco use and prevention policies; P = Protect people from exposure to tobacco smoke; O = Offer help to quit tobacco use by tobacco cessation services.
"W = Warn people about the dangers of tobacco use; E = Enforce full ban on advertising, promotion and sponsorship; and R = Raise excise taxes on tobacco products.''
According to him, the ministry in collaboration with WHO and Nigeria Tobacco Alliance (NTCA), will be conducting some activities to help address tobacco issues.
He listed them as virtual tobacco cessation webinar and setting up a tobacco cessation toll-free call centre in the ministry to offer cessation services to tobacco users.
Others are: to set up a mobile tobacco cessation (mCessation) services, whereby tobacco users can access quit support using WhatsApp number +41 79893 1892.
He said it would also provide support to five states: Kano, Ogun, Imo, Edo and Bayelsa to organise the "World No Tobacco Day".
"Beyond cessation services Nigeria will, as from June 23, start implementation of graphic pictorial health warning messages and tobacco product packaging to replace the age-long health warning texts.
"Increasing excise tax on tobacco products to make it more unaffordable is a strong way to discourage tobacco use."
By Franca Ofili