Educational institutions are well positioned to communicate the United Nations' Sustainable Development Goals, especially among young people. Nigerian universities, when they accept this responsibility, can play a central role in promoting the Global Goals to deliver a better, more sustainable future for all.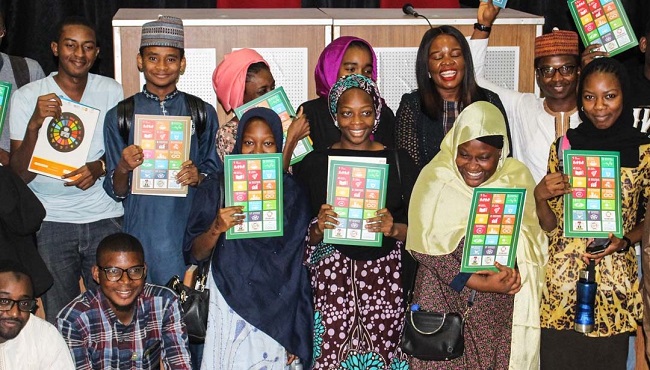 On Tuesday, January 15, 2019, the International Climate Change Development Initiative through her SDGs4Universities programme trained 70 selected students from the Nile University, Abuja. The programme, which held at the Conference Hall of the university, was targeted to introduce the United Nations' Sustainable Development Goals (SDGs) framework to young students across African universities and more specifically to engage them to take tailored, innovative actions in their local community that have the potentials to birth global transformation.
According to the Director of Student Affairs, Nile University, Mrs. Aleshinloye, "We believe the Sustainable Development Goals will expose our students to understand how they can make social impacts beyond educational knowledge, as well as, interact with other young people doing amazing things in their communities. Our university will always welcome opportunities like this that helps us to amplify our efforts towards sustainability and sharing best practices to inspire students to implement their own plans."
Making a presentation at the SDGs4Universities, Semiye Michael, one of 2018 United Nations Goalkeeper and the co-founder of DEAN Initiative, shared with the students present some of his solution-based actions towards driving the SDGs in Nigeria. Another speaker, Rita Idehai, explained how students can identify some social challenges prevalent in Nigerian universities, and what measures the students can take to bring about solutions.
Rose Keffas, a special adviser to Princess Adejoke Adefulire, the Senior Special Assistant to the President, from the Office of the Senior Special Assistant to the President on the SDGs, inaugurated a 20-man SDGs Ambassador group. This group of students will be further trained and equipped on ways of better advancing the Sustainable Development Goals in Nile University, demanding accountability from government and creating solutions to social challenges.
SDGs4University project coordinator, Seyifunmi Adebote, said: "We are taking this project to many other universities across Nigeria to promote knowledge and action about the Global Goals among young people in Universities across Nigeria – private and public."
By 'Seyifunmi Adebote, Abuja