A two-day international conference recently held in the Russian city of Saint Petersburg highlighted the importance of public space for wellbeing in cities.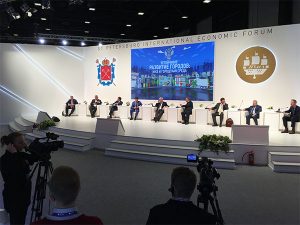 "Public space as a place for dialogue: Promoting the implementation of the New Urban Agenda in Russia and the CIS region" was organised by the Ministry of Construction, Housing and Utilities of the Russian Federation, United Nations Human Settlements Programme (UN-Habitat), the Government of Saint Petersburg, and the ITMO University, provided insights on urbanisation trends in Russia and the region.
Discussions provided an opportunity for other cities and regions in Russia and the CIS to engage in the discussion on sustainable urbanisation and public space. Deputy Minister of Construction, Housing and Utilities of the Russian Federation, Andrey Chibis, shared insights on current work of the Government on improving the urban environment countrywide.
During the discussion, Executive Director of UN-Habitat, Dr Joan Clos, shared his views on the prerequisites of sustainable urbanisation, while Vladimir Grigoryev, Chief Architect of Saint-Petersburg, provided an insight on how Saint Petersburg manages its public spaces, and how the city mobilises funds for such work.
After the plenary discussion, work in sections continued. The National Urban Policy for Urban Renewal section addressed what constitutes a national urban policy and affirmed the relevance of many of such policies' components in Russia and the CIS region. Participants in the section on the Role of Public Spaces in Urban Renewal learned about the UN-Habitat Global Public Space Programme and contributed to the development of public space programme in the region. The section on the Planning for Urban Renewal discussed advanced urban planning approaches.
UN-Habitat signed Memorandum of Understanding with the CIS Inter-Governmental Council for Cooperation in Construction Activities in 2012, and stated that would continue to work jointly with Russian and other Governments in the region through its office in Moscow, on implementing the New Urban Agenda, and improving the quality of life in cities.