An investigation into Grace Mugabe, the former First Lady of Zimbabwe, was announced last month, after evidence of her connections to the illegal wildlife trade was uncovered by Australian photo-journalist, Adrian Steirn. If arrested and charged, this could change the landscape of the enforcement for wildlife crime across Africa.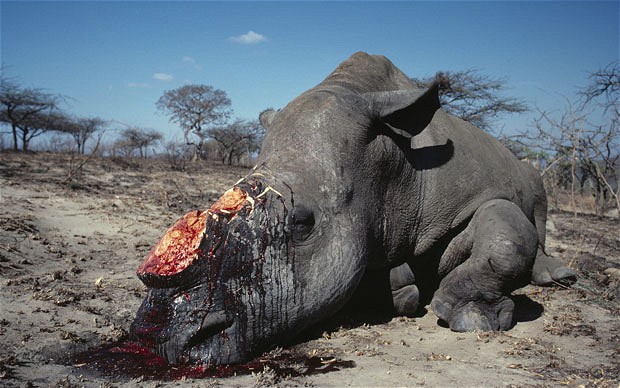 But observers wonder if a prosecution will be possible.
Zimbabwe is home to both black and white rhinos and has the fourth-largest national population of Critically Endangered black rhino. Unfortunately, in 2017, 36 rhinos were killed by poachers in the country.
The new President of Zimbabwe, Emmerson Mnangagwa, sanctioned an urgent investigation into the former First Lady's activities, following evidence of systemic smuggling of ivory, rhino horn, diamonds and gold.
For four months, Adrian Steirn posed as a potential customer for illegal wildlife products, finding a number of links between Grace Mugabe, poachers on the ground and those working to send illegal items out of the country. In conversations with ivory and rhino horn dealers, Steirn came to understand that goods marked as the First Lady's were able to pass through customs without being searched.
The poachers that had offered Steirn ivory were arrested and found in possession of six large elephant tusks. But any evidence connecting these crimes to the former First Lady is crucially important if a prosecution is to be successful and Zimbabwe's political landscape could mean that this is difficult to secure.
In 2008 and 2009, 39 suspects were arrested in Zimbabwe for various rhino-related crimes, but only five were successfully prosecuted and convicted. Of these five, just two received substantial sentences befitting their crimes, whilst the other three got away with paltry fines. This was due to a combination of factors including: poor investigation of the cases; inadequate preparation and presentation in courts by the prosecution; likely cases of corruption; and a general lack of appreciation by court officials of the severity of the rhino poaching crisis. However, in 2010, poacher Tichaona Mutyairi, was sentenced to 17 years in jail, a punishment that better matched the scale of his crimes.
While this was a positive step towards better enforcement of wildlife crimes, it does not mean that all future poaching crime investigations will be straightforward. Corruption is widespread and poaching is often just one aspect of illegal activity by much larger networks of major organised crime syndicates. While the new Zimbabwe government may have stated a "no nonsense approach" to wildlife trafficking, in 2009 President Mnangagwa himself was accused of having links to rhino poachers.