Leakage from an oilfield operated by Shell Petroleum Development Company (SPDC) at Aghoro community in Bayelsa State in Nigeria has discharged some 1,114 barrels of crude oil into the environment.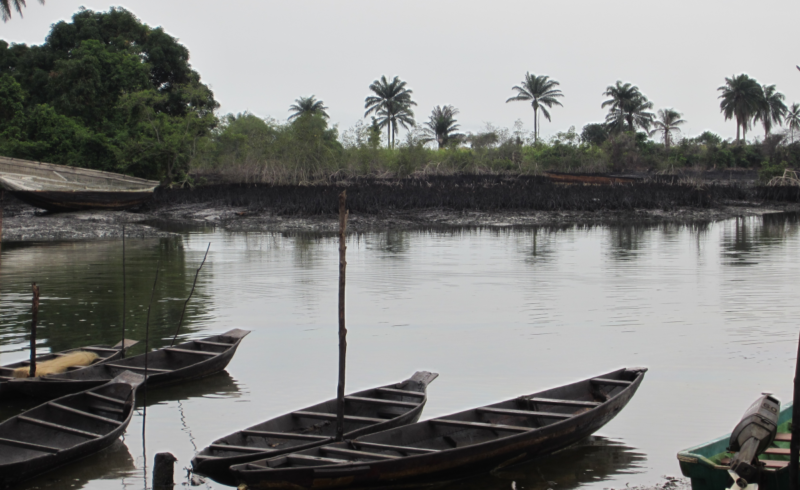 The leakage has adversely affected the fishing vocation of residents who had withdrawn from fishing to pave way for clean up.
The resulting oil spill impacted and polluted an estimated area of 113.03 hectares of land, according to a joint Investigation Visit (JIV) report of the incident obtained by News Agency of Nigeria (NAN) in Yenagoa, the state capital, on Monday, October 8, 2018.
A disagreement among community leaders in the areas affected by the leak stalled the release of the Joint Investigation Visit (JIV) report of the oil spill.
Community leaders, who participated in the JIV to determine the cause of the spill, reportedly refused to sign the report.
The refusal was attributed to wide disparity between the impacted areas claimed by Shell and the community, but Mr Bamidele Odugbesan, the Media Relations Manager at SPDC, said that the grey areas had been sorted out.
The report indicated that only 247.5 out of the 1,114 of SPDC's crude blend had been recovered at the spill site, while the remaining were yet to be accounted for.
According to the spill incident report, the oil leak was reported on May 17, but the joint visit could not be immediately conducted until June 23.
The report said the spill was caused by equipment failure resulting from weak integrity of the 24-inch Trans Ramos Pipeline giving rise to cracks on the pipeline at Aghoro in Ekeremor Local Government area of Bayelsa.
Representatives of the host community, National Oil Spills Detection and Response Agency (NOSDRA), Bayelsa Ministry of Environment and SPDC, who conducted the investigation agreed on the findings and signed the report.
NAN gathered that repair work on the leaking pipeline is underway, while recovery of spilled oil from the site is still ongoing.
Reacting to the development, Odugbesan expressed regret about incessant spills on the Trans Ramos Pipeline, saying that although the May 17 spill was traced to equipment failure, other leaks were predominantly caused by sabotage.
"The rate of spills on the Trans Ramos Pipeline is very worrisome, for instance between April and May 26, spill incidents were reported on that line and out of these, 18 of them were caused by sabotage, eight were operational," he said.
By Nathan Nwakamma