While controversy rages in Nigeria over the proposed construction of a Cross River State-sponsored 260km, six-lane highway that threatens a pristine community forest as well as a National Park, the Kenyan government has abandoned a contentious blueprint of the standard gauge railway (SGR) that cut deep into the Nairobi National Park.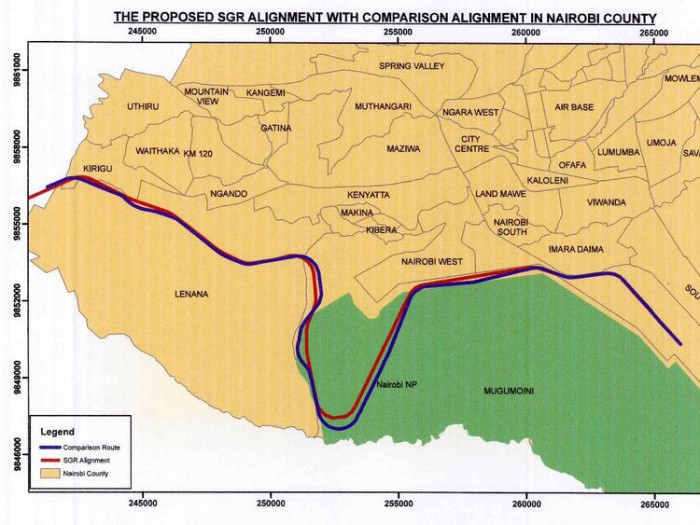 A committee that included some board members of the Kenya Wildlife Service and Kenya Railways had approved the design last December, which would have led to the destruction of about 20% of the park.
Environment Cabinet Secretary, Judi Wakhungu, said the ministry was not involved and demanded it be dropped. "It is the ministry that went to Kenya Railways to protest the design, saying it will destroy biodiversity. So it was shelved," she told The Star recently. Wakhungu said the transport ministry is drawing another route.
The controversial drawing carved deep into the park for about 50km, before exiting near the KWS main gate on Lang'ata Road. This would compromise about 20% of the park, destroying key habitats and animal breeding grounds. A public hearing conducted after The Star reported the proposal last December nearly turned chaotic as the public opposed the design. KWS director Kitili Mbathi, who was installed as the service boss in February, confirmed the controversial design has been abandoned.
"There was an earlier design but it was rejected. The ministry is working on the new plan but it has not come to us," he said. Kenya Railways MD Atanas Maina did not disclose what the new outline looks like.
"We are still looking at other projects across the world to see the best practices," he said. The Star learnt the railway is likely to follow an earlier draft and still cut through the park on raised platforms, but without making the 50km detour. An Environmental Impact Assessment done for Kenya Railways last May showed this would still destroy 46ha of the park.
"The SGR realignment will make some park areas unusable by wildlife. The total area of wildlife habitat to be lost through this proposed realignment as land use will be about 46.7ha," said Eston Murithi, the lead EIA specialist contracted by KR last year.