Public knowledge on how Genetically Modified Organisms (GMOs) are produced is essential for its acceptance and adoption to tackle hunger and ensure food sufficiency in the country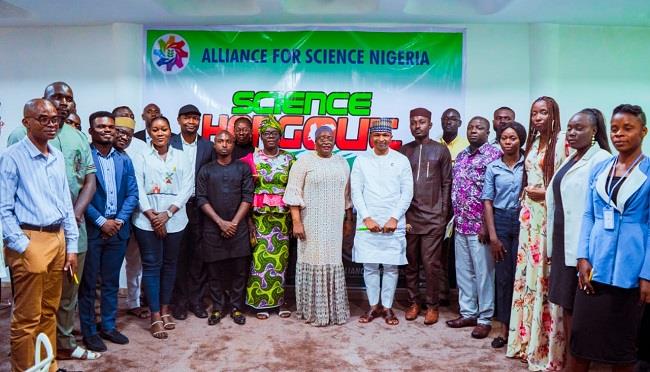 Even though Nigeria is the largest producer of Cowpea, popular known as beans globally, it is still encountering a huge consumption deficit of over 500,000 tonnes, which is usually bridged through importation from neighboring countries.
Nigeria spends at least N16 billion annually on the importation of cowpea. Beans farmers have been struggling with how to tackle the dangerous Maruca Vitrata, a pod borer insect that destroys the seed. They have to spray pesticides about 10 times on their farms each planting season to combat this deadly pest.
In 2019, the National Biosafety Management Agency (NBMA) approved the Pod Borer Resistant cowpea that was developed by the Institute for Agricultural Research (IAR) at the Ahmadu Bello University, Zaria, with the support of the African Agricultural Technology Foundation (AATF) to stop the pest from infecting and destroying more than 80 percent of cowpea production.
The new variety was endorsed to help farmers spray less pesticide, increase yield, reduce poverty, and foster economic transformation in the country.
However, it is heartbreaking to note that despite the progress achieved so far in this field, GM crops have several setbacks as the public continues to question their safety on human and environmental health.
Even though scientists believe that the PBR cowpea is safe, nutritious, and harmless, the product is still being resisted because of a poor understanding of the science behind this novel technology.
"I feel so sad when people don't understand this technology," Dr. Rose Gidado, coordinator of the Open Forum on Agricultural Biotechnology (OFAB), Nigeria chapter, lamented.
Expressing her displeasure during a Science Hangout organised by the Nigerian Alliance for Science in partnership with OFAB Nigeria, in Abuja, she asserted that biotechnology is about facts and evidence.
Therefore, she urged Nigerians to embrace biotechnology to avoid losing out on the biological revolution.
On his part, Opuah Abeikwen, coordinator of the Nigerian Alliance for Science, raised the issue of food insecurity and why the country needs to adopt this technology to resolve it.
"Conventional crops have not been able to solve the worrisome issue of food insecurity in the country," he said.
Biotechnology crops are ecologically and climate-friendly and ensure higher yields when compared to their conventional counterparts, according to Abeikwen, adding that he wants Nigeria to deploy this innovative technology as a tool to address its food crisis.
The hangout, he explained, was arranged to increase awareness of the status of Biotechnology in Nigeria, especially among journalists and scientists to enable them properly to inform the public about genetic engineering.
"The world is changing rapidly as there is a crisis in the world food system," says Greg Odogwu, National Coordinator, Centre for Renewable Energy.
It is pivotal for communicators to accurately educate the public on the need for farmers to embrace GM technology, thus, he appealed to the media not to relent in its awareness creation and education of the populace through well-researched and objective reportage.
Today, because the world is talking about sustainable development and economic diversification, there is a need for the government to channel more investment into biotechnology development and empower young people mostly women with its products.
The new PBR cowpea promises to bridge the huge gap in beans production and help Nigeria save over N48 billion yearly. Therefore, it is crucial to dispel public fear, and help them to understand that GM crops are highly regulated.
Truth be told, there is no doubt that amid rising concerns such as the COVID-19 pandemic and climate change, Nigeria has to accept innovative technologies to feed its populace.
Those in charge must ensure that the public knows the NBMA was established to regulate biotechnology activities in the country to ensure that they are safe for human consumption and environmental health.
By Etta Michael Bisong, Abuja