PSP waste operators in Lagos are to return to their former role as residential waste collectors, thanks to what appears to be a resolution of differences between them and the authorities.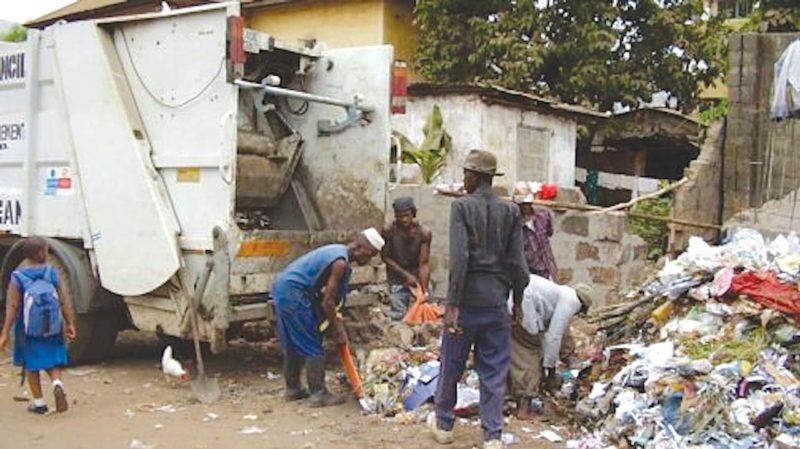 The breath of fresh air will also see the PSP operatives, now referred to as Waste Collection Operators (WCOs) under the controversial Cleaner Lagos Initiative (CLI), revert back to their traditional door-to-door residential waste collection task.
The reshuffling of residential waste collection responsibilities by the state government under the CLI saw Visionscape Sanitation Solution taking over the function from PSP, thereby leading to an infamous waste management crisis that lead to the emergence of heaps of refuse in the state.
But, in an announcement on Thursday, April 5, 2018, CLI disclosed that a progressive consensus has now been reached between both parties.
"This new development contains an agreement which will see PSP operators, now referred to as Waste Collection Operators under the scheme, return to their former role as residential waste collectors, while Visionscape oversees waste management infrastructural reforms in the state," according to the statement.
CLI pointed out that the agreement was reached after the state government extended a proverbial olive branch to the aggrieved operators in a bid to resolve the long drawn out issues, and prompt the WCOs to return to regular waste collection operations in the state.
Oladipo Egbeyemi, Chairman of the Association of Waste Managers of Nigeria (AWAM), expressed his gratitude to government officials for their unrelenting support and dedication in the face of the challenges faced by the PSP operators.
Egbeyemi further reassured Lagos state residents of an uplift in the city's waste management system with the official resumption of door-to-door residential waste collection by the PSPs.
Visionscape Sanitation is likewise charged with the construction of waste management infrastructure and, so far, the organisation has refurbished three dilapidated Transfer Loading Stations (TLSs) previously managed by LAWMA in Simpson, Agege, and Oshodi.
Visionscape is also currently facilitating the completion of an Engineered Sanitary Landfill in Epe which, according to state officials, serves as a safer alternative for the troubled dumpsite in Olusosun, which caught fire a few weeks ago, and has since been shut down by the state government.
The CLI says it remains committed to working with all parties to achieve and maintain a clean environment for all.
The landfill currently under construction, and manned by Visionscape Sanitation in Epe is said to be the first Engineered Sanitary Landfill in West Africa.
The 88-hectare landfill has been described as a key infrastructural reform under the CLI and, on completion, will boast of engineered cells, leachate collection and treatment facilities, material recovery facilities, a green EcoPark, and other essential features.