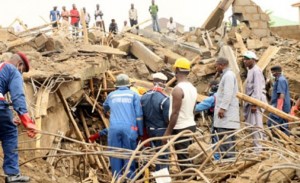 By 3.00 am last Wednesday in Dutse Alhaji, a district of Abuja, it happened yet again. A building collapsed, albeit with fatalities.
The unsuspecting victims were fast asleep when the two-storey building under construction experienced a massive structural failure, killing three persons while nine others were left critically wounded.
Most of the casualties were commercial motorcycle (okada or achaba) riders who had turned the uncompleted structure into a home. Observers say the seeming sub-standard materials being used in constructing the building could have been responsible for its collapse.
However, as it is the case in previous occurrences, the expectation is that investigations would remain inconclusive and, then, followed by a short wait for the next collapse.
Building industry practitioners are worried that "this evil has transcended the Nigerian landscape unabated and it is, visibly, gaining momentum."
The professionals, made up of town planners, architects, engineers, land surveyors, estate surveyors, quantity surveyors and builders, seem exasperated with the development, saying that rhetoric and mere promulgation of laws alone would not address it.
They echoed last week in Lagos that they had evolved a practical approach to solve the building collapse problem, which they claim has cast aspersions on their professional integrity.
Based upon the premise that someone should be held responsible for the failure of a project, the experts disclosed that the multi-disciplinary Building Collapse Prevention Guild (BCPG) had emerged to keep errant operatives in check
"Professionals in the built environment sector have chosen to embark on a voluntary, humanitarian and free service under the umbrella of the BCPG, which is a child of necessity in the quest for normalcy in Nigeria's construction sphere. The need to lay emphasis on mitigation of losses, and promotion of preemptive measures that will avert collapse of buildings aroused this initiative. The superiority of prevention to nursing effects of calamity, in economic sense, is obvious," submitted the building industry experts in a presentation endorsed by Kunle Awobodu (of the Nigerian Institute of Building and BCPG chair), Ladipo Lewis (Nigerian Institute of Architects), Tijani Lasisi (Nigerian Institute of Quantity Surveyors), Makinde Ogunleye (Nigerian Institute of Town Planners), Afolabi Solesi (Nigerian Institution of Surveyors), Jelili Akinpelu (Nigerian Institute of Building), Sola Fatoki (Nigerian Institution of Estate Surveyors and Valuers), Bola Bido (Nigerian Society of Engineers), Busola Awojobi (Nigerian Institution of Structural Engineers) and Ade Omopeloye (Nigerian Institution of Civil Engineers).
Having chosen Lagos (because it has recorded the highest incidence of building collapse nationwide) for the commencement of their "experiment," the state was divided into various localities or cells.
Additionally, the names and addresses of interested professionals from all the seven professional bodies were collated. The structure also features zonal coordinators and team leaders. Where a member frequents such as residence or place of work determines the cell or locality he or she belongs.
They stated: "Our monitoring activities would adopt persuasive and non-confrontational approach. We are more or less observers that should show interest in the construction activities in our localities. We shall endeavour to know the construction professionals handling sites in our localities. Number of sites in each cell, type of building foundation related to soil test report and other factors will be determined and reported.
"Building construction is where we derive our source of income. We intend to give back to the society through this united act of social responsibility. The greater danger lies within the sites managed solely by artisans and building owners' representatives. Professional advises that can assist building production at such sites would be provided free of charge or a communication link will be established between the site managers and government officials.
"Buildings that are unlikely to stand the test of time, when identified, will be brought to the notice of the authorities."
It was gathered that members would, in their localities, partner with the executive bodies of Community Development Associations (CDAs) and Residents' Association for greater achievements.
"The Obas and Chiefs should also be of great assistance to our cause. On the danger inherent in substandard construction, religious leaders will help preach to their congregations. Enlightenment campaign can help overcome ignorance and sharp practices. Any interested member of the public is free to be part of our initiative at curbing the spate of building collapse."
Described building artisans and crafstmen as very important in the production of building, they stressed that the sector was being organised and that the artisans and craftsmen were being given better orientation and training.
"These tradesmen are expected to bring to our knowledge inappropriate activities on sites," noted the building industry practitioners, adding that studies carried out on some collapsed buildings revealed brittleness in the concrete debris. They believe that this amplified the importance of the concrete casting teams "that had been neglected in the equation of solving the problem of building collapse."
They went on: "Over 90 percent of buildings constructed in Nigeria, especially in Lagos State, were products of these concrete casting gangs. Having recognised their importance, we began to organise that sector for close to four years now. Today, all concrete casting teams have come under the umbrella of BCPG for better site concrete production.
"Now, they are proposing a day for a rally to commence zonal practical concrete training. That day, no concrete gang will work in the whole of Lagos State. These people are indeed many and committed. They are passionate about this initiative of raising the standard of concreting, their means of livelihood. They have produced BCPG vests and caps to be worn at the rally by their members.
"Results of material tests from laboratories are a testimony of prevalence of substandard construction materials in Nigeria. This is an area we believe will necessitate our working with the Standards Organisation of Nigeria (SON), Lagos State Materials Testing Laboratory, importers and manufacturers of building construction materials.
"Lagos State as a case study; rapid development and vastness of the developed area make it impossible for the government officials to monitor building construction work constantly. Some years back when Lagos was of a manageable size, government officials monitored sites regularly. Then rare occurrence of building collapse was recorded.
"Today, it is obvious that government does not have the staff strength to adequately monitor building construction sites adequately. Conversely, construction professionals are in thousands and are found in nooks and corners of the State. This is why it is necessary for us to complement government's efforts at curbing the incident of collapsed buildings in Nigeria.
"The government on its own part should recognise the advantage of construction professionals' knowledge and ubiquity and provide the necessary supports that can enable us achieve results in this voluntary and non-money making exercise. If we remain focused and with sincerity of purpose, what appears a herculean task will become achievable.
"If a building is primarily constructed to protect man and his belongings, it is ironical when it now turns 180 degrees to endanger same. A safe environment is a cause worth sacrificing time and other resources for."