The Organised Private Sector on Water, Sanitation and Hygiene (OPS-WASH) is set to partner with the Nigeria Governor's Forum to construct decentralised sewage systems in order to end water pollution through faeces.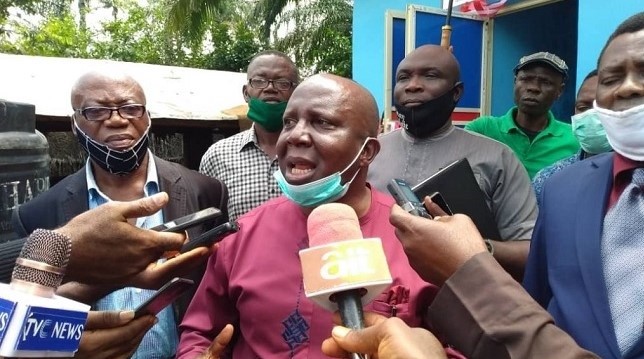 National Coordinator, Dr Nicholas Igwe, said in an interview that the partnership would be based on mutual accountability and collaborative efforts
This is part of their mandate as the private sector representative for the Clean Nigeria: Use The Toilet Campaign chaired by Vice President Yemi Osinbajo.
This, he noted, would enable OPS-WASH to leverage on their private sector capacity for technology and innovation for the implementation of said systems.
According to him, it is worrisome that only FCT has a central sewer system.
"The impacts of poor sewage managements are dire and will counter-act the efforts to end open defecation, ensure that everyone has access to safely managed water and to clean Nigeria generally.
"Some states don't have a central sewer at all and these faecal sludge ends up in the water bodies.
"We are partnering with state governments to build a centralised sewage system, so that when people evacuate, they don't have to dump in the water bodies or in the bushes."
He noted that the organisation was contributing its quota to the Executive Order 009 by the President and reducing the impact of COVID-19 pandemic to the society.
In addition, he said that the building of water and sanitation facilities in the country would allow for the creation of jobs for unemployed youths for management and operation of the facilities.
It will be recalled that President Muhammadu Buhari had in November 2019 signed the "Executive Order 009 to End Open Defecation in Nigeria by 2025".
It empowers the Federal Ministry of Water Resources to implement this order by ensuring that all public places like schools, markets, hotels, and fuel stations, places of worship, hospitals and offices have accessible toilets.
Igwe noted that multi-stakeholders' collaboration was key to ending open defecation practices and scaling up access to water and sanitation.
According to him, it is important for private individuals to begin to think about making money from sanitation marketing with direct and indirect jobs from the sector as this will improve more lives.
"We have come to realise that a lot of jobs can be created through the structures put in place by the OPS-WASH, entrepreneurs can own their own sanitation infrastructure in public places like markets, motor parks, hospitals and schools.
"These things can be built by private individuals and they can collect money to operate and maintain the place, and recoup their money over a period of time.
"You will realise that this has direct and indirect relationship with COVID-19, hygiene and poor sanitation in different places.
"If people do not have access to water to wash their hands and lack the basic hygiene promotion practices, it is a challenge and obviously be exposed to COVID-19 pandemic.''
He noted that the Federal Government's collaboration with key stakeholders was spearheading interventions to scale up water, sanitation and hygiene in the country.
He said in mobilising the private sector in WASH scale up, the organisation centers its interventions on four pillars which anchors on "Project Flush It", safely managed centralised sanitation systems in partnership with State Governments, Tax credit schemes and the blue bond issuance programme.
The national coordinator hinted that part of Project FLUSH It interventions includes the involvement of two million Diaspora Nigerians to adopt toilet constructions toward contributing their quota to ending open defecation.
"It is critical to involve both local Nigerians and Diaspora Nigerians in resolving the major crisis of open defecation.
"It will enable Diaspora Nigerians, local Nigerians and local organisations to adopt water and sanitation facilities online.
"There will also be training of locals on installing and maintaining the toilet facilities so as to build on local capacity on operation and maintenance."
On the Tax Credit Scheme, Igwe noted that it entailed the addition of tax incentives which will be part of the Executive Order 009 for individuals investing in water and sanitation facilities.
According to him, discussions are already ongoing with the Federal Ministry of Finance and the Inland Revenue service.
On the Blue Bond Issuance Programme, he said it entailed mobilising private capital to finance the sector in Nigeria for the establishment of a N400 billion.
He added that the organisation was also involved in the communications and advocacy aspect of ending open defecation.
The organisation is set to inaugurate the "Pupu Gang" book to create awareness on dangers of open defecation, especially among school children and in using them as hygiene ambassadors.
By Tosin Kolade