After two weeks of deliberations and negotiations, the 24th Session of the Conference of the Parties (COP24) to the United Nations Framework Convention on Climate Change (UNFCCC) ended on Saturday, December 15,2018 upon the approval of the Paris Agreement Work Programme, otherwise known as the "Katowice Climate Package".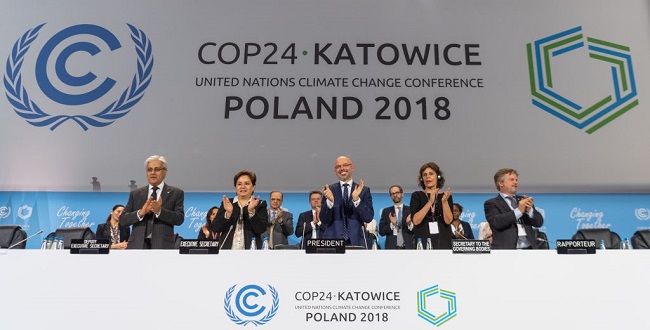 The conclusion has however attracted a barrage of comments from stakeholders who have on one hand hailed it as a welcome development and,on the other hand, condemned it for being weak and lacking direction.
United Nations Secretary-General, António Guterres, was however full of praises for COP24, which he said has displayed the resilience of the Paris Agreement.
He said: "The approval of the Paris Agreement Work Programme is the basis for a transformative process which will require strengthened ambition from the international community. Science has clearly shown that we need enhanced ambition to defeat climate change.
"From now on, my five priorities will be: ambition, ambition, ambition, ambition and ambition.
"Ambition in mitigation. Ambition in adaptation. Ambition in finance. Ambition in technical cooperation and capacity building. Ambition in technological innovation.
"Ambition will be at the centre of the Climate Summit that I will convene in September 2019.
"And ambition must guide all Member States as they prepare their Nationally Determined Contributions (NDCs) for 2020 to reverse the present trend in which climate change is still running faster than us.
"It is our duty to reach for more and I count on all of you to raise ambitions so that we can beat back climate change."
Johan Rockström, resilience scientist who as Director Designate is leading the Potsdam Institute for Climate Impact Research, spoke in a similar vein, describing the Katowice agreement as "a relief".
His words: "Countries recognise the need for global collaboration to deal with the global climate crisis. The Paris Agreement is alive and kicking, despite a rise in populism and nationalism. With the rulebook now finally adopted, the Paris agreement can be implemented. Overall, the Katowice decisions provide enough momentum to move forward."
But he frowned at the fact that the UN Summit failed to align ambitions with science, "in particular missing the necessity of making clear that global emissions from fossil fuels must be cut by half by 2030 to stay inline with the IPCC 1.5 C report."
He said: "This is a real concern. We continue to follow a path that will take us to a very dangerous 3-4 degrees warmer world within this century. Extreme weather events hit people all across the planet already now,at only one-degree global warming. Especially the US is a hard-hit victim, a nation that played an unfortunate role at the climate summit, which already suffers and will suffer even more in the future from an increase of regional droughts and hurricanes.
"However, Katowice is only one step on the long and winding road to achieving sustainable prosperity within a fossil-fuel free future. All of us need to stop tip-toeing and speed up our steps. And Europe can and must be a forerunner."
Ottmar Edenhofer, climate economist and acting Director at the Potsdam Institute for Climate Impact Research, also expressed cautious optimism on the issue, saying: "Once again, governments across the world have proven that they're capable and willing to cooperate in order to protect their citizens from climate risks. Despite a growing number of populist governments, multilateralism succeeded.
"However, the world needs more than climate policy targets and processes – it needs concrete measures, and they must be taken now.  In this respect, climate change can no longer be simply regarded as the biggest market failure of all time – with the continued rise of global greenhouse gas emissions after years of negotiation, it has also become an unprecedented government failure.
"Through appropriate policy measures – like effective CO2pricing – governments have to build a new trust-relationship to citizens.Carbon pricing cannot solve everything, yet without it nothing can be solved.And governments can actually use carbon pricing to enhance social justice,because the generated income can and must be given back to the people, be it through electricity tax cuts, infrastructure investments, or Christmas cheques."
Joseph Onoja, Director of Technical Programmes at the Nigerian Conservation Foundation (NCF), gave the summit a thumbs-up for eventually arriving at a decision, but likewise offered a word of caution and advice.
He said: "Suffice to say that it was a tensed gathering because a decision was not reached until the very closing minutes of the summit,the good thing is that the decision was made at the end. It is indeed a right step towards the right direction. However, it is time for action.
"Climate change is not waiting for humanity to act. We have negotiated for long. Now is the time to act. As for the content, it will not be completely water tight, but we have a good enough document to work with, which will be impactful if implemented.
"In terms of the commitments, countries were committed to their interests but, at the end, the global interest won and that is the beauty of negotiation. Now is the time to act."
Environmentalist and renewable energy expert, Huzi Mshelia, opined that, going by the COP's outcome, countries have shown commitment to the process to the extent that they acknowledged the climate change threat and are engaging.
"The adoption of the guidelines, even without conclusion on markets, is a good step in the right direction because it could have been tragic to come out of Katowice without anything," he stated.
He went further: "For a start, the guidelines would prompt further action albeit not as urgently as the situation deserves. The development in Katowice has reinforced my earlier belief that we need to do more domestically, particularly the mobilisation of local financial resources to address our vulnerabilities. While the international climate regime isencouraged, domestic actions are, in my opinion, even more critical and urgent.
"For Nigeria, the economy is directly at risks of climate change and our response is to immediately build appropriate safeguards to climate-proof the economy; any other approach will show lack of understanding of the dynamics of this phenomenon."
But environmental activists and Director, Health of Mother Earth Foundation (HOMEF), Nnimmo Bassey, faulted the basis of the summit as well as its outcome.
His words: "The Paris Agreement was not the best agreement that the world needed to tackle global warming. A Rulebook to implement a set of voluntary nationally determined commitments does not add up to change the climate trajectory, sadly. The Paris Rule Book does not address the key cause of global warming: continual extraction and burning of fossil fuels.
"The outcome of Katowice is essentially business as usual, a postponement of many issues yet to be decided and a broad weakening of the justice basis of the Climate Convention. It will essentially give a tiny nudge to act and that action will mostly be in the frame of false solutions based on market mechanisms and other carbon offset routes. COP24 was an arena for power play and left vulnerable nations, that were never part of creating the problem,with the burning end of the climate stick, unfortunately."The world can and must do better. Polluters must be kept away from future climate conferences. Nations must agree to keep fossil fuels in the ground as required by science. Time to ensure that all concerns are based on the best interest of the people and the planet."