The largest of several wind-driven wildfires blazing north of Los Angeles was rapidly expanding to 400 square kilometres on Thursday, December 7, 2017 forcing authorities to order further evacuations.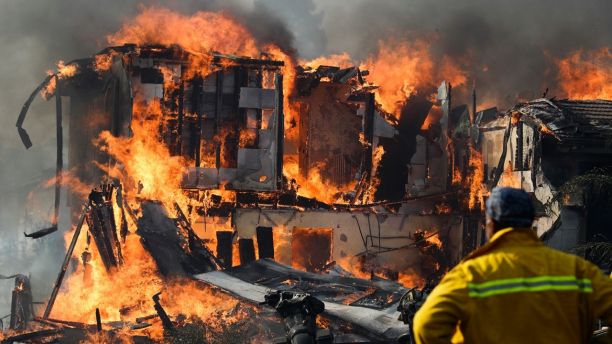 Much of Los Angeles and neighbouring Ventura counties are under the highest fire alerts through Saturday.
Wind gusts on Thursday were hitting 80 to 110 kilometres per hour and forecast to continue into the weekend, lowering relative humidity levels into the teens or lower, the National Weather Service said.
Across the region, more than 100,000 people have been evacuated.
The so-called Thomas fire, centred in Ventura on the Pacific Coast, was known to have destroyed 150 structures with 15,000 more threatened, according to state fire agency CalFire.
The blaze remained only five per cent contained, with more than 2,500 firefighters at the scene.
Nearly 500 fire engines were deployed, as well as 12 helicopters and 26 bulldozers.
"The fire continues to burn actively with extreme rates of spread and long range spotting when pushed by winds," CalFire said.
"Firefighters continue to work aggressively to protect life and property while working on control efforts around the fire perimeter."
The National Weather Service has described this week's conditions as this year's strongest and longest event of the dry, seasonal Santa Ana winds.
Two other major fires were burning in Castaic Junction, near the Six Flags Magic Mountain amusement park, and in the Kagel Canyon area.
Combined, the three largest blazes have scorched about 470 square kilometres, an area more than half the size of the city-state of Berlin.