The Federal Government has been asked to diversify from fossil fuels for power generation to safe and clean alternatives which solar panels, wind and hydro offer.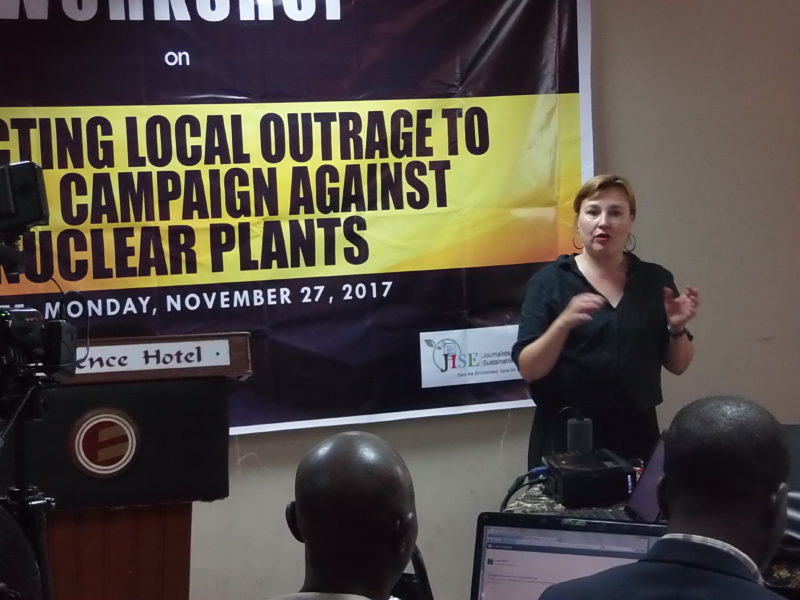 Additionally, the authorities were called upon to halt and completely discard ongoing plans to build nuclear reactors in the country, and that details of the memorandum of understanding (MoU) with nuclear firm, ROSATOM, and the recently signed agreement should immediately be made public and subject to the purview of relevant stakeholders.
The calls were made at a one-day workshop on Connecting Local Outrage to Global Campaigns Against Nuclear Plants in Lagos on Monday, November 27, 2017. The Centre for Social Change and Citizenship Education (CENSOCHANGE) in partnership with Journalists Initiative for Sustainable Environment (JISE).
Participants were drawn from civil society, the media, community-based organisations, and pro-democracy groups.
At the close of discussions participants observed that:
Nigeria is still heavily reliant on fossil fuels for power generation with a heavy price on the environment, lives and livelihoods of locals in the Niger Delta
Government's much-touted plans to diversify from oil to cleaner alternatives has been more of mouth service than very concrete and verifiable actions
The Nigeria Atomic Energy Commission (NAEC) engagements with ROSATOM to build nuclear plants in Nigeria does not have the consent of majority of Nigerians and is shrouded in secrecy
There is total media blackout on matters relating to the planned nuclear plants. The Nigerian government has not been forthcoming on details of the MoU and recent signed agreement with Russia on construction of the reactors
Community/civil society consultation is lacking in the ongoing plans to build nuclear plants in Akwa Ibom and Kogi States. Vital groups including women and the vulnerable have been entirely left out in the processes
ROSATOM global track-record in relation to safety standards is allegedly questionable
The gathering thus charged government to ensure proper oversight on the activities of NAEC which, it notes, seem to have limitless powers in its engagement with foreign governments.
Participants also want the media to explore the possibility of using the Freedom of Information Act to demand information on the Russia-Nigeria nuclear reactor deal which, they allege, is still under the wraps of the NAEC.
They also demand consultative meetings with community/civil society groups on the plans to build nuclear reactors to sample their views.
"Community consultations which have thus far not been carried out in Akwa Ibom and Kogi states must include women and vulnerable groups to sample their views on hosting of nuclear plants," the participants said in a communique made available to EnviroNews.
While demanding that more findings on ROSATOM track-record should be conducted, the forum emphasised: "The recently-released ROSATOM Risk Assessment Report by Greenpeace can serve as guide in taking further decisions relating to nuclear plants in Nigeria."
In his welcome words, chair of CENSOCHANGE, Doifie Buokoribo decried Nigeria's dependence on fossil fuels for energy generation which, he said, still left the nation with a fluctuating 4,000 megawatts of power, old infrastructure, and forced shut downs of power plants.
Buokoribo said that while it is commendable that the Nigerian government is interested in options outside of fossil fuels, the recourse to nuclear energy when the rest of the world is walking away from that path is very embarrassing and dangerous.
Presentations at the workshop included: "The Little We Know About Nigeria's Nuclear Plans" delivered by Philip Jakpor of the Environmental Rights Action/Friends of the Earth Nigeria and "Some Nuclear Facts" by Iida Simes, a Finnish journalist.
Panel sessions were on the topics such as "Reporting Nuclear Plants in a Freedom of Information Regime" and "Avoiding Another Niger Delta Tragedy: The Role of Civil Society and Host Communities".
Objectives of the workshops were listed to include:
Interrogate Nigeria's carbonised economy and further drift towards danger and unsustainability through nuclear energy experimentation
Stimulate broad-based and structured debate on the secrecy surrounding recent agreements between Nigeria and ROSATOM in the light of the Federal Government's much-touted transparency and ROSATOM's track-records in the global energy sector
Amplify the role of the media in exposing the myths behind nuclear energy
Urge host communities, civil society and Nigerians in general to reject Nigeria's plans to build nuclear plants
Encourage eco-friendly alternatives to the present energy generation sources for the sake of the Nigerian environment, economy and well-being of her citizens