Poultry farmers in Abuja have called on the Federal Government to review the nation's policy on exportation of agricultural raw materials to create employment opportunities for youths in the sector.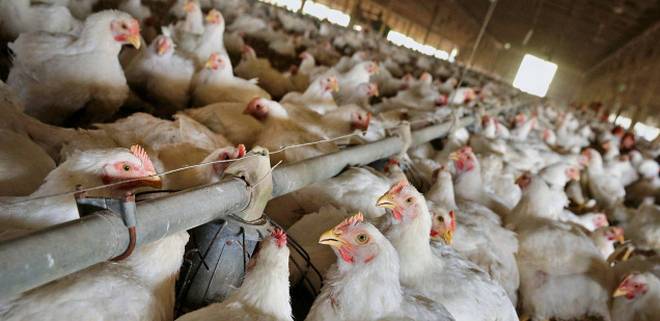 A cross section of the farmers said this in separate interviews with the News Agency of Nigeria (NAN) on Tuesday, December 26, 2017 in Abuja, on the sideline of activities marking the Christmas celebrations.
Some of them said the problem of inaccessibility of raw materials was among the challenges militating against local production of poultry substances and job creation in the sector.
They also said that lack of adequate raw materials could hinder growth in the revenue generation of the nation's Gross Domestic Product (GDP).
Others appealed to government to review its policy on exportation of materials used for processing of poultry feed to enable the business to thrive.
A farmer in Kuje, Mr Kunle Adeniyi, said that he stopped rearing poultry birds in April due to impact of unfriendly government policies on materials.
Adeniyi lamented that the price of vaccines, building of the poultry cage and other facilities required for the poultry farming had increased.
He said although government established policy to encourage people to engage in the farming, there were stringent principles that made it impossible for people to achieve the goal.
According to him, one major factor affecting poultry farming negatively was high cost of feed required for provision of nutrient.
"Instead of government to design policy that will bring about result in price reduction, it is rather exporting maize, when we can actually process such raw materials into finished products
"No country ever develops like that, government must review its policy to encourage poultry rearing and boost food production in Nigeria.
"It should monitor policies that are made to ensure the effective implementation; when you export raw materials it should enhance our economy.
"If you want to create jobs, is it by exporting raw materials? Government must review its policy to bring about self sufficiency and sustainable food security.
"We can never grow in the sector through such means; rather, government must come up with measures to process raw materials, to create more jobs and increase the GDP."
Another farmer in Bwari, Mr Clement Nwanze, said that the business operation yielded profit for him, in spite of the ugly incidence of crisis that ensued during the Christmas celebration in Bwari.
He said inadequate finances, high cost of feed, vaccines and insecurity of the birds were major challenges in poultry production.
According to him, raring of poultry birds is good because "I had a good turn over, despite the fact that it was my first time in the business".
Nwanze said: "I started by rearing 22 chicks in July that matured into Broilers, although I lost three in the process the turn over was profitable.
"By this time next year, I hope government will have reviewed its policy on exportation of raw materials, to enable poultry farmers to key into agriculture as source of sustainable economy".
A farmer in Nyanya, Mrs Mary James, decried cost of maize, millet, rice and fish often used in the feed production of poultry.
She urged government to ban exportation of such materials to create room for local production of poultry feed.
James said "if that is done government will be doing poultry farmers great help, because not only will many people venture into it, it will also reduce cost of doing poultry businesses".
"Exporting a finished product that has added value will promote Gross Domestic Product, but to export raw materials which are major source of production, will lead to business loss."
She noted that if that was done, it would help to improve the culture of poultry production and ensure profit maximisation in the business.
By Fortune Abang