Residents of oil-producing communities in Niger Delta, majorly women, have called on critical stakeholders to join in the forces against incessant pollution and violation of the fundamental rights by oil multinationals.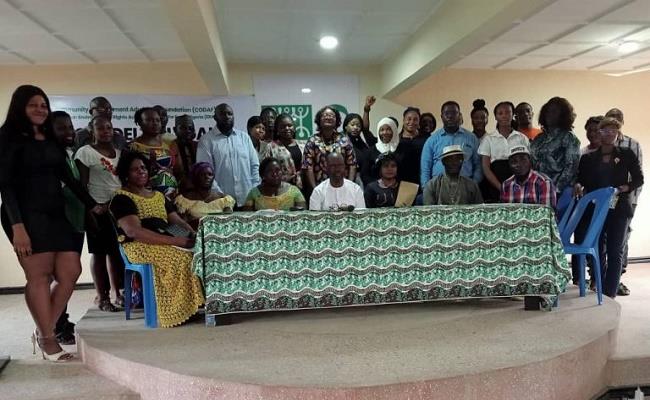 The residents, who were from Odimodi and Forcadus communities in Delta State, stormed Benin City, the Edo State capital, on Friday, April 7, 2023, to join the Gelegbene community in Edo, in a meeting with the International Federal of Women Lawyers (FIDA), civil society organisations, Environmental Rights Action/Friends of the Earth Nigeria (ERA/FoEN) and Community Development Foundation (CODAF).
The riverine communities appealed to the environmental activists and women lawyers to intervene and stop environmental pollution, as well as marginalisation and supersession due to the operations of the oil multinationals in their locals.
Narrating their ordeal at the gathering, themed "Niger Delta Legal and Strategic Meeting for Fishery Folks", facilitated by the CODAF in collaboration with ERA/FoEN, Mrs. Mary Fedigha from Gelegbene lamented that since Dubril Oil company began operations in the area, the environment had been seriously impacted.
She expressed dismay that the fishes the residents used to catch before to make a living, are no more.
"You need to go several miles in search of fish before you catch a few," she decried.
Fedigha also identified gas flaring in the middle of the community as another danger that the residents are constantly exposed to.
"All the buildings around the gas flaring site are in danger; the heat there is unbearable.
"Despite being an oil-producing community, Gelegbene has no potable water, no hospital, no road. We are benefiting nothing from the oil company," she said.
Sharing a similar sentiment, a retired Deputy Superintendent of Police, Fred Obi from Odimodi community in Delta, related how he incurred losses, arising from the pollution in the area.
"I have a fishing yard and fish pond. I had my fishing pond at the bank of the river where I had different species of fishes, but when the river overflows it banks, it took away the fishes, so I moved upland to sink a borehole and continued with my fishing ponds, but due to the pollution all my fishes died.
"What we are passing through is like hell on earth in Odimodi community," Obi said.
Also, Juliet Egbele, from Odimodi community, called the attention of the activists to an impending danger as a result of Trans-Raymond pipeline, whose lifespan, she said, had elapsed.
"There is a pipeline running through the town, called Trans-Raymond; it is a 42-inch transparent pipeline.
"They said the pipe has only a 20-year lifespan; when the pipeline was over 25 years; we wrote to them, but they didn't respond.
"When it got to 30 years, the pipeline started giving problems. It burst in 2018 on its own due to old age. This incident affected us a lot. it got to an extent that we couldn't breath properly.
"We are dying, we breathe in hell, we are dying. They should come and do their clean up properly.
"Though Shell paid the community in 2018 for impact made, they refused to pay individuals for their claims.
"We are appealing to all human rights activists to help us. We can be a host community, without being sick.
"We are battling with sickness as a host community," she lamented.
Other residents, who corroborated the issue, said the communities had remained the same without tangible development in spite of the oil exploration.
Responding, Executive Director, ERA/FoEN, Barr. Chima Williams, stressed the need for synergy, promising that his organisation would give every necessary support to make sure justice is served to the oil-producing communities
He asserted that he was passionate about their conditions.
On her part, FIDA Chairperson in Edo, Violet Olumese, said the federation was aware of the plight of the communities and would do all that is necessary to give the necessary support.
Earlier, Mr. Benin Richard, Executive Director, CODAF, expressed dismay with the situation, when he visited the Odimodi community, describing it as "devastating and very difficult to comprehend".
He appealed to FIDA to add the environmental components to their work.
By Usman Aliyu