Fruit bats in Boki Local Government Area (LGA) of Cross River State appear to be threatened, no thanks to intense hunting by local communities. According to studies, as much as 4,000 bats per cave are captured and killed in a single hunting effort.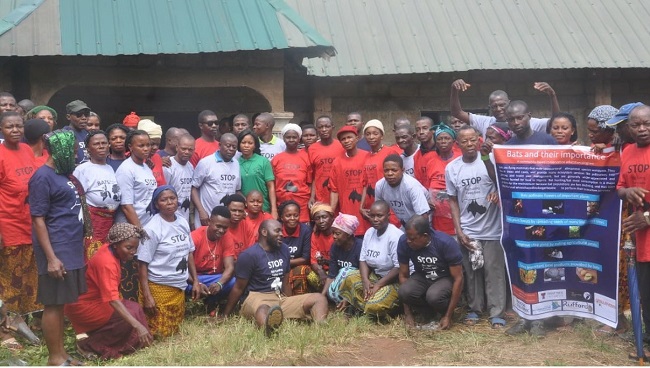 But local folks seem to be unaware that these hunted bat species are pollinators of economic plants such as banana. Community members are predominantly farmers who depend mainly on cocoa and banana farming for livelihood.
A change is however in the offing, courtesy of efforts by a civil society organisation (CSO) that is seeking to turnaround the people's perception to save the bats as well as the future of the last primary rain forest in Nigeria.
The Small Mammal Conservation Organisation (SMACON), as part of a conservation education and outreach programme in Boki, recently held town hall meetings with adults in the communities, where the importance of bats as pollinators and seed dispersers in their communities were highlighted. Subsequently, discussions on the need for bat conservation were held.
Director, SMACON, Benneth Obitte, disclosed that community members made important suggestions which led to a community-driven plan to stop bat hunting in these areas.
"Participants also received conservation education materials carrying important messages showing that bats are important pollinators important plants such as banana. We also initiated a conversation with farmers on bee keeping," he stated.
Obitte added that the group also educated students on the role of pollinators, and seed dispersers using crafts.
"We also distributed customised notebooks carrying conservation messages. These messages include locality-specific stories about the ecosystem importance of pollinators," he noted.
According to him, there is heavy reliance on non-timber forest products (NTFP) such as 'bush mango' for livelihood. He stressed that, under a participatory rural appraisal framework, the outreach programmes employed preliminary data from research it conducted yearly in the communities since 2015.
"The overarching goal was to reduce pressure on the forests from locals in these areas that hold the last primary rain forest in Nigeria," Obitte concluded.
Nigeria on Thursday, July 25, 2019 in Abuja aligned with a global initiative to protect pollinators when it signed the Declaration of the Coalition of the Willing on Pollinators. The signing affirms the nation's intent to act and implement a national strategy to protect pollinating species threatened with extinction.