Political leaders on Monday, December 3, 2018 began arriving in the Polish coal city of Katowice where two weeks of talks have begun to revive the landmark Paris 2015 deal on climate change as dire warnings mount about a lack of action.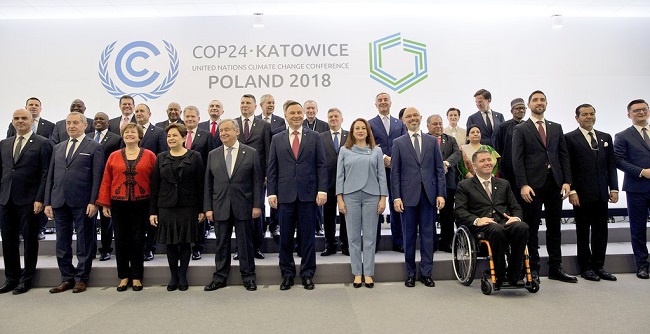 Representatives of some of the most powerful countries and biggest polluters will be conspicuous by their absence as the U.S. has said it is leaving the UN process and China was not expected to send its top politicians.
To maximise the chances of success, technical talks began on Sunday, a day earlier than planned, with delegates from nearly 200 nations haggling over how to implement the broad promises of the Paris deal on moving away from fossil fuel.
The talks in Katowice have been billed as the most important UN conference since the landmark Paris accord as they precede an end-of-year deadline to agree a "rule book" on how to enforce action to limit global warming to between 1.5 and twp degrees Celsius.
Expectations for the Polish talks are low: the atmosphere of political unity built in Paris has been shattered by a wave of populist governments that place national agendas before collective action.
The host nation Poland remains committed to coal, the most polluting of fossil fuels, calling for a "just transition" to allow communities dependent on fossil fuel help in changing their lifestyle.
The riots in Paris at the weekend, partly in protest at higher fuel taxes, also illustrate the conundrum: How do political leaders introduce policies that will do long-term good for the environment without inflicting extra costs on voters that may damage their chances of re-election?
Delegates at the talks said the biggest issues were likely to include finance and the level of scrutiny associated with monitoring individual nations' emissions.
The UN has a goal to raise $100 billion every year from 2020 for climate action.
To inject momentum, the World Bank Group on Monday said it would provide a further $200 billion over five years from the start of the next decade.
Other attempts to inject urgency into the Polish talks include an intervention from British broadcaster and environmentalist David Attenborough, as well as the roughly 25 heads of state and government who are attending the talks.