As climate diplomats and about 40 ministers from across the globe gather in Berlin for the Petersberg Climate Dialogue, campaigners are calling on the meeting to lay the framework for the UN climate talks in UAE (COP28) November/December 2023.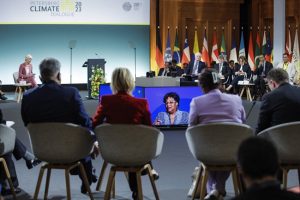 In order to keep global heating to 1.5°C the final cover decision must include the equitable phase out of all fossil fuels – coal, oil, and gas – and establish the goal to install 1.5 Terawatt (TW) of renewable energy yearly for 2030.
This meeting, hardly known outside of diplomatic circles, is considered an essential part of the road to COP28 routine for key negotiators and ministers: It is at this meeting they will identify priorities and common expectations for the big climate conference later in Dubai. Equitable phase out of fossil fuels and renewable energy targets are both in the concept note and on the agenda of their meeting.
Joseph Zane Sikulu, Pacific Managing Director for 350.org, said: "Over the last two months we have seen two tropical cyclones tear through Vanuatu within the span of one week, devastating communities. 1.5 degrees isn't just a target for the Pacific, it is a limit. To stay below that limit, we need a phase out of fossil fuels and a fast, fair and financed transition into renewable energy. We bear almost no historical responsibility for the climate crisis but are willing to lead, there is still hope and the solutions to this crisis exist."
Andreas Sieber, Policy and Campaigns Associate Director at 350.org "The recent IPCC was a final wake up call for the decisive decade and the oil CEO COP28 president, Sultan Al Jaber has so far rather hit the snooze-button. He must not be able to again hide behind the same few blockers with vested interests. Negotiators must go a step further and form a strong united coalition for a COP28 cover decision to phase out all fossil fuels and simultaneously massively scale-up the deployment of renewable energy. It's long past time for him to wake up."