A new report by Global Witness sheds light on what's driving the high number of killings of environmental defenders in Peru, less than a week before the country hosts the UN climate talks in Lima. Peru's Deadly Environment calls into question the commitments of Peru to protect its carbon-rich forests and the people who live in them, in light of unfettered illegal logging, disregard for indigenous land claims, and new laws that favour industrial exploitation over environmental protection.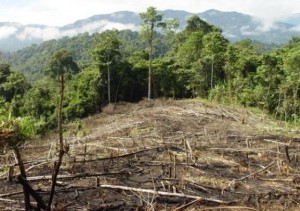 The report comes on the heels of the killings of four indigenous leaders in Ucayali in September, including prominent anti-logging activist Edwin Chota and three of his fellow Ashéninka leaders from the Peruvian Amazon.
"The murders of Edwin Chota and his colleagues are tragic reminders of a paradox at work in the climate negotiations," said Patrick Alley, Co-Founder of Global Witness. "While Peru's government chairs negotiations on how to solve our climate crisis, it is failing to protect the people on the frontline of environmental protection. Environmental defenders embody the resolve we need to halt global warming. The message is clear, if you want to save the environment, then stop people killing environmental defenders."
Peru is the fourth most dangerous country to be an environmental defender, behind Brazil, Honduras and the Philippines. At least 57 environmental and land defenders were killed in Peru between 2002 and the present day, more than 60% of them in the last four years, according to new Global Witness data. Most of these deaths involved disputes over land rights, mining and logging. 72% of Peru's indigenous communities still have no way of demonstrating their land tenure rights, and over 20 million hectares of land claims have not yet been processed.
Peru's Deadly Environment is being launched at an award ceremony in which the Alexander Soros Foundation will honour Chota and his colleagues with its annual Award for Environmental Activism. Diana Rios Rengifo, daughter of one of the murdered men, will accept the award on behalf of her father and their Ashéninka community, which has been fighting for more than a decade for the right to gain titles to its land.
"They may have killed my father and his friends, but I am still here," said Diana, daughter of Jorge Rios. "And I will continue to fight for the rights to our territories and for the rights of the other indigenous peoples of Peru."
Peru presides over an area of rainforest roughly the size of the US state of Texas, and recently committed to reduce net deforestation to zero by 2021 as part of a $300 million deal with Norway. In 2012 deforestation rates in Peru doubled from the previous year and forest loss now accounts for nearly half the country's annual greenhouse gas emissions.
Illegal logging is worth 1.5 times the value of legal timber exports in Peru, and allegations contained in Peru's Deadly Environment hint at collusion between loggers and government officials. Edwin Chota had received numerous death threats for his resistance to the loggers who were gutting his community's forests, but his appeals to the authorities were ignored. Before he died, Chota sent local police photographs of the illegal loggers who are now charged with his murder, and the locations of their logging sites.
Across Latin America, strengthening indigenous rights to their land has proven links to healthier forests and lower carbon emissions – evidence that will take centre stage at the upcoming Lima climate conference. Meanwhile hosts Peru invoked a new law in July 2014 that grants extended land use rights to investors for the expansion of large-scale agriculture, mining, logging and infrastructure projects.
"Peru's credibility as a forest protector hinges upon providing land and resource rights to the country's indigenous and rural populations," said David Salisbury, a University of Richmond professor who has spent time with Edwin Chota's community of Saweto, and who will speak at the award ceremony in New York. "If you want to keep forests standing, you have to invest in people who live in them, as they have the most at stake in the sustainable development of those areas. Saweto is a perfect example. The government should recognize there are people in the forests, and give them rights to them. How can you maintain standing forest, and mitigate climate change, if the defenders of the forest are being assassinated?"