For the parts of the Paris Climate Change Agreement which relate to adaptation to climate change to be fully implemented, more clarity is needed on how to recognise and review measures to build resilience, including with the help of comparable methodologies.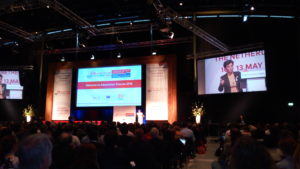 This was the key conclusion of scientists and practitioners meeting at the Adaptation Forum in Rotterdam, the Netherlands last week. The Adaptation Committee – the overall advisory body on adaptation to the UN Framework Convention on Climate Change (UNFCCC) – organised the forum on the margins of the Adaptation Futures Conference, the 4th International Climate Change Adaptation Conference.
Don Lemmen, Co-Chair of the Adaptation Committee, outlined the objectives of the forum, including informing participants of the adaptation-related aspects of the Paris Agreement and receiving inputs to be used by the Adaptation Committee and the Least Developed Countries Expert Group in making key elements of the Paris Agreement which relate to adaptation operational.
Roger Pulwarty of the National Oceanic and Atmospheric Administration in the USA addressed the question of reviewing the adequacy and effectiveness of adaptation actions and support thereof.
According to him, most assessments of adaptation are restricted to impacts and planning; only few assess the processes and metrics of implementation and the evaluation of actions. During the discussion moderated by Vivienne Parry of the United Kingdom, participants referred to existing frameworks, such as national adaptation plans, to assess the adequacy and effectiveness of adaptation.
Many participants lamented the lack of common adaptation metrics in the adaptation components of national climate action plans (Intended Nationally Determined Contributions, or "INDCs"). For example, Burkina Faso seeks to distribute 1,000 drip irrigation kits per year as part of its adaptation efforts in the water sector, whereas Comoros aims to increase the percentage of farmers with adaptive water management systems and Bolivia wants to significantly increase its water storage capacity.
Katherine Vincent of Kulima of South Africa highlighted ways to recognise adaptation efforts of developing countries. One such method of recognition could include Climate Public Expenditures and Institutional Reviews. For example, expenditures for measures to adapt to climate change are marked and tagged in Nepal's budget and thus easily recognisable. Other practitioners highlighted sharing of good practices and identifying champions. The Netherlands, for example, was recognised as a champion in flood control.
Minpeng Chen, Co-Chair of the Adaptation Committee, stressed that more methodological work is urgently needed and invited all participants to provide further input in order to operationalise adaptation provisions of the Paris Agreement.