Nigeria formally commenced the preparation of its climate action plan, tagged Intended Nationally Determined Contributions (INDCs), on Wednesday, 29 April 2015 in Abuja when a host of stakeholders brainstormed all day long.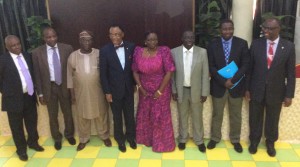 The INDCs is a requirement to be submitted by all parties to the United Nations Framework Convention on Climate Change (UNFCCC) as a major component of the climate change treaty to be adopted in Paris, France later in the year.
Nigeria's INDCs, just like those of other nations, are to be communicated well in advance of the 21st Session of the Conference of the Parties (COP 21) to the UNFCCC to be held in December in Paris. A number of nations have already submitted theirs, including Gabon, making it the first African country to do so.
But Nigeria set the ball rolling last week at a day-long project initiation workshop, where Mrs Nana Fatima Mede, Permanent Secretary in the Federal Ministry of Environment, reaffirmed the need to set up processes and procedural approaches of estimating greenhouse gas (GHG) emissions for developing the INDCs documents as an uncompromising priority for Nigeria. To this end, she pointed out, the Ministry through the Department of Climate Change (DCC) is committed to ensuring its commitment to the UNFCCC.
Addressing the participants, she stressed: "As technicians participating in this endeavour, your undivided cooperation is required in developing this national document. Provision of data and information and your participation in the whole process of development of the document will make the product a national document containing national contribution and related concerns and interest."
While commending the "unflinching support of the UNDP in the ministry's activities and specifically for financial support towards development of the INDCs," the perm sec noted that participants' contributions would go a long way in moving the nation's effort towards achieving the objectives of the UNFCCC.
Dr Pa Lamin Beyai, the UNDP Country Director, told participants (comprising civil society organisations, NGOs, academia, media, grassroots organisations, private sector players and MDAs) that their presence "is not only crucial but is the major building block in a series of steps towards developing an all-inclusive and realistic INDCs for Nigeria."
According to him, the UNDP is counting on the stakeholders' collective experiences and knowledge in identifying:
Unique national circumstances, capacities and capabilities which affect the INDCs process;
Existing initiatives and mechanisms under the UNFCCC that can contribute to the formulations of INDCs;
Opportunities for linkages/alignment with existing national development priorities; and,
Key sectors to be prioritised.
He said: "The UNDP, within its framework of partnership with the DCC, has been providing support aimed at promoting informed national actions on climate change towards sustainable development. Our support is to assist Nigeria in meeting its obligations towards UNFCCC thorough the preparation and submission of its INDCs and to strengthen national capacities for integrating environmental and energy concerns into development plans at all levels.
"Knowing fully well that national GHG inventories are a critical starting place for preparing the INDCs, it is noteworthy that the entire process would benefit immensely from national capacities developed with UNDP's support during the preparation of the First and Second National Communications to UNFCCC. Coincidentally this would set the tone for the preparation of the Third National Communications."
In a presentation titled: "Relevance of Intended Nationally Determined Contribution (INDCs) in the Global Climate Change Framework: Nigeria Readiness," Dr Samuel Jare Adejuwon, Director in the DCC, declared that the INDCs would largely determine whether the world achieves an ambitious 2015 agreement and is put on a path towards a low carbon, climate-resilient future.
He pointed out however that the climate action plan should reflect diversity of national circumstances while recognising varying capacities and capabilities.
"While national priorities will determine contribution types and scope, it is Important to secure a political mandate with clear goals, timeline and defined roles and responsibilities. It should be linked to development plans, be fair, equitable and transparent. INDCs link climate change to other national priorities such as sustainable development and poverty reduction," said Nigeria's climate chief.
Adejuwon added that, apart from the initiation workshop, other steps to be taken for the INDCs preparation include:
Training of selected experts on INDC (GHG inventory and mitigation experts);
Collection, analysis of information (data collection and analysis) and preparation of draft INDC through consultancy;
Peer review of draft INDC;
Stakeholders validation meeting;
Presentation at the Federal Executive Council and FEC approval;
Communication to COP through the UNFCCC Secretariat; and,
Publication and dissemination of the document.
In conclusion, Adejuwon submitted: "A well-designed INDCs will signal to the world that the country is doing its part to combat climate change and limit future climate risks. Countries should follow a transparent process when preparing their INDCs in order to build trust and accountability with domestic and international stakeholders.
"A good INDC should be ambitious, leading to transformation in carbon-intensive sectors and industry. A good INDC must be transparent so that stakeholders can track progress and ensue countries meet their stated goals. A good INDC must be equitable so that each country does its fair share to address climate change. All these must be taken into consideration while developing Nigeria's INDCs."
Similarly, Peter Tarfa, Adejuwon's deputy, while exploring options for designing an INDC, stated that INDCs can be framed either in terms of means or desired outcomes.
He said: "A Party could commit to implementing specific emissions-reduction actions, such as policies or mitigation actions like advancing a feed-in tariff for renewable energy technologies, phasing out fossil fuel subsidies, or converting to no-tillage agricultural practices.
"Alternatively, a Party could commit to a certain outcome or result – for example, reducing emissions to a specific level (a greenhouse gas outcome) or generating a certain percentage of renewable energy or increasing energy efficiency to a certain level (both non-greenhouse gas outcomes). The variety of domestic situations each country faces in reducing emissions will drive a wide diversity of INDCs, ranging from emissions targets to energy targets to actions in particular sectors."