Against the backdrop of the cache of floods ravaging the land, moves are being intensified to alleviate the plight of hapless Nigerians via an initiative designed to warn ahead of impending danger.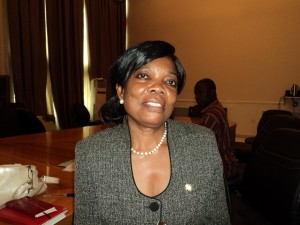 The scheme, which is already in its fourth year, is basically a flood early warning system, such that a given region or community is alerted of a looming flooding due to, for example, excessive rainfall ,so as to curb damage to lives and property.
Tagged the "Flood Forecasting Management and Control (FFMC)", the project is being promoted by the United Nations Development Programme (UNDP) and domiciled in the Erosion, Flood and Coastal Zone Management Department of the Federal Ministry of Environment.
Programme Coordinator, FFMC, Dr. Keji Oyeleke, stated that since its inception in 2008, the project had been able to successfully forecast numerous potential floods and subsequently avert disaster.
Tracing its genesis, she recalled that it commenced via an inception workshop that brought together relevant stakeholders from the academia, the Ministries of Water Resources and Agriculture, Power Holding Company of Nigeria (PHCN), Nigeria Meteorological Agency (NIMET), Nigeria Emergency Management Agency (NEMA) and other relevant institutions.
"They all met and agreed that, because of the annual loss of lives due to excessive rainfall, which is occurring due to the impact of climate change, there is need to do something about it. Yes, it is good that we can mitigate, put in place flood control measures, but how about the control of flood? How about the pre-emptive part of the flood? That was what informed the workshop, where it was agreed that we need to put such a system in place.
"It was agreed that we should form a National Working Committee to comprise relevant stakeholders. There were about 16 of us from different ministries, departments and agencies (MDAs) and there we put heads together and we were able to formulate areas of duties and roles. For example what role should NIMET play, and what part should NEMA play? And we now put an institutional mechanism in place for the operation of flood early warning system," she submitted.
According to her, the forum then set out to determine how the system would operate, what should be in place in form of an institution, giving them their role, "so that everybody is working together to have a synergy, because flood control or flood early system is not what one ministry alone can do."
Oyeleke went on: "From there, we were able to get some things going and, with UNDP assistance, we were able to establish the flood early warning systems, what we call a web-based flood early warning system. That is, it is based on the World Wide Web, and it enables us to download data (rainfall, humidity, pressure, wind direction, wind speed) and in a model we were able to synthesise the possibility of flood when they occurred based on these different parameters. These are hydrological data. And with the model that we were able to set up, we were able to see or forecast where flooding is likely to occur, five days ahead."
Describing the concept as information communication technology (ICT) intensive, she submitted that staffers were trained with UNDP assistance. "The establishment of the web was also supported by the UNDP, who have been partnering with us. So when we download from the web, we are able to analyse, we are able to pick areas that flood can occur. And immediately, we inform such areas by sending text messages to the Ministry of Environment in the particular state, to the Permanent Secretaries, to Directors, Zonal NEMAs, in case of flood disaster. They are supposed to take urgent action in case of flood disaster."
"And we get approval to issue such an alert to the News Agency of Nigeria (NAN), Nigeria Television Authority (NTA), and as well as other print and electronic media channels to help us to publicise the information. Besides SMSs, we also send emails. But we found out that SMSs are more effective. Also, we follow up with phone calls to ensure that the alerts are received. Whether it is the one that happened in Plateau or Ibadan or elsewhere, we always send ahead of time.
"The system started operating as far back as last year. This year, we have upgraded the website. Last year when we started, we were forecasting for 72 cities, but now we have almost 400 cities all over the country."
She said that the project website can be accessed to a certain level.
"The issue of flood forecasting is technical and sensitive, and needs to be carefully handled so as not to create unnecessary panic. But, of course, the website is open and you can get our maps and some other information.
She insisted that despite constraints, FFMC has been able to successfully forecast accurately on several occasions.
"For example was a very recent one in Plateau State, where flooding occurred and many areas were washed off due to heavy rainfall of long duration. We sent the alert and actually followed up with a telephone call, and immediately the message was received, they went on air to begin to warn people that, look, we are expecting flood, please move away from there, and they did that. But, unfortunately, some people were reluctant to move away from their ancestral homes.
"Another example is in Katsina when we sent an alert to them and they took it with a pinch of salt and when the rain and flood came there was disaster and it was reported that a child actually died. So the next time they received our alert they were on their toes. The alerts have helped us to save lives and property and also enabled communities and whole states to be prepared. It is what we call flood preparedness plan. It has really helped them. Once they get our alert, they go ahead and prepare. We heard that now, in a particular state, all local government chairmen are involved in clearing their drainages, and removing encumbrances from waterways."