Waterside and slum dwellers, under the aegis of their umbrella body, the Nigerian Slum / Informal Settlement Federation (Federation), say they stand with the families of two of their colleagues who were slain in the course of the violent April 2017 forced evictions at Otodo Gbame community in Lagos.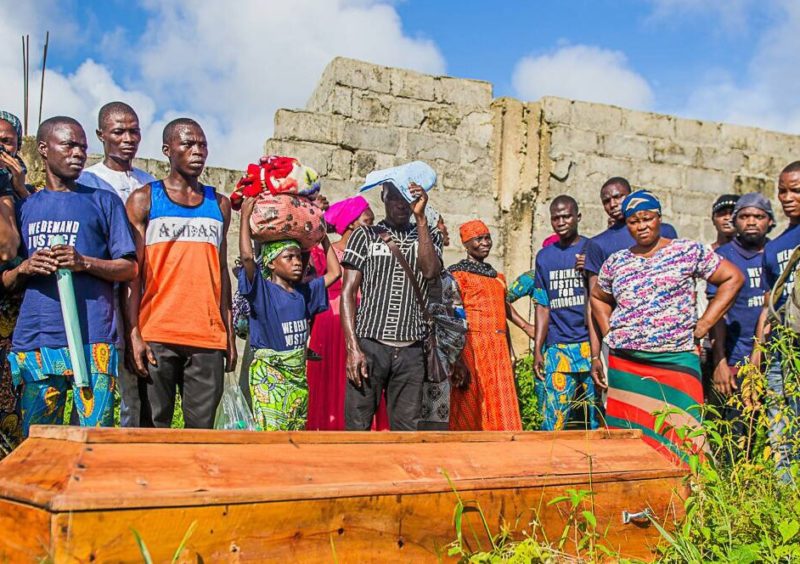 At a funeral procession on Saturday, June 4, 2017 for the late Daniel Aya and the late Elijah Avonda, the mourning settlers called for justice for their families and all Otodo Gbame evictees.
"We stand together with all our brothers and sisters from Otodo Gbame community to call for justice for their families and for all persons forcibly evicted from November 2016 and April 2017," they chorused.
Described by the settlers as a "violent land grab", the activities that resulted in the forcible eviction of over 30,000 residents of Otodo Gbame began on November 9-10, 2016, during which an excavator and arson attack destroyed the vast majority of the community, with at least 11 people reported drowned fleeing into the Lagoon.
The Lagos State Government allegedly resumed demolitions on March 17-21, 2017, before peaceful protests by residents temporarily stopped the forced eviction.
"But, the state government finally returned on April 9, 2017 to chase all remaining residents off the land and the waterfront that was their only home, shooting bullets and teargas and setting all remaining homes ablaze with kerosene," the Federation claimed in a statement.
Aya, a young man reportedly born and raised in Otodo Gbame, was said to have been shot in the neck by policemen attached to the Lagos State Task Force as he tried to salvage his family property during the violent evictions of April 9, 2017. Although residents tried to carry him to hospital, he died from profuse bleeding before he could reach medical treatment. He leaves a wife and two young children.
The statement further reads: "Five others were shot that day as Task Force recklessly sprayed bullets to scatter fleeing evictees, among them Monday Idowu, a 17-year-old student who was shot in the chest. Unlike Aya, these were able to reach medical treatment before it was too late and survived their wounds.
"Avonda Elijah, a 42-year-old fisherman, was shot and killed the morning before the final demolition of Otodo Gbame. On April 8, 2017, a gang of thugs invaded the community and attacked a group of residents, attempting to abduct one of them. Avonda Elijah, who was just returning from fishing, chased them and was shot severally in the course of rescuing his neighbor. He died on the spot, leaving two wives and 10 children bereft and without their breadwinner.
"The murders of Aya Daniel and Avonda Elijah were promptly reported to the police and their bodies taken to the mortuary where required autopsies have been performed. However, up to day no arrests have been made in connection with their murders and no one charged. We demand swift action by the Nigerian Police Force to bring their killers to book – especially those from within the police force – and see that justice is done so their families can have rest of mind.
"The tragic loss of life and forced displacement of over 30,000 people is to make way for an upscale real estate development called the Imperial International Business City, a joint venture between the Elegushi Royal Family and ChannelDrill Resources Limited. The project is advertised as 'an exclusive peninsula' between Lekki Phase I and NICON Estate – one of the most valuable pieces of real estate in the city – and a number of foreign investors and companies are already involved. The Lagos State Government has confirmed its approval of and support for the project.
"We condemn – and call on others to join us in condemning – the violence, impunity, and brazen disregard for the rule of law being demonstrated by the Lagos State Government, which is incongruous with a democratic society and the aspiration to be a global leader among megacities.
"A true global megacity cannot be successfully built on the blood of the urban poor. A true global megacity must be inclusive and harness the talents of all its residents to bring development to all. We must all stand with Otodo Gbame to ensure they see justice and a return to the rule of law, and to enable us to build Lagos as an inclusive megacity we can all be proud to call home."