Lift Above Poverty Organisation otherwise known as LAPO Microfinance Bank has unveiled its Ecological Intervention Project for the next five years, focusing on the economic emancipation of minimum of "two to five million poor Niger Delta women who depend heavily on the environment for survival".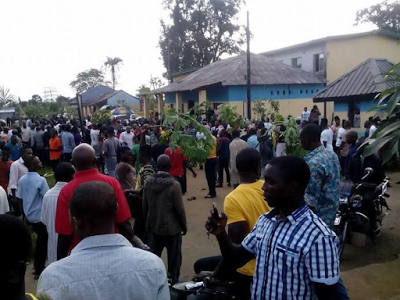 In a media chart with selected journalists in Lagos during the week, Managing Director and Chief Executive Officer of the company, Dr. Godwin Ehigiamusoe, said LAPO's intervention is specially focused on discouraging heavy users of firewood for domestic cooking and lightening.
Ehigiamusoe said the briefing was part of efforts to interface with the public on the giant strides made so far by LAPO Microfinance Bank, especially on its commitment to helping to alleviate the sufferings of many downtrodden Nigerians.
The LAPO Microfinance boss explained that in substitution for the depletion of the nation's forest, in the name of fetching firewood for domestic cooking, his company has been making available and distributing clean energy cooking gas and solar lanterns for women across the nooks and crannies of Benin, Delta State, with utmost intention of reaching across the entire region in the next five years.
According to him, "so far, we have distributed over 302,000 solar lanterns to these women. Of equal importance is also how we are discouraging them from further harming the environment and subsequently contributing to the dangerous global warming through their heavy reliance on firewood for domestic cooking.
"What we have done in this regard is to provide for them, clean energy cooking gas, in replacement of firewood. We have distributed about 400,000 of these items so far. And it is our utmost intention to reach out to as much as two to five million women across the region, say in the next five years.
"To deliver on this, we have international partners from India and Europe that are supplying us with these cylinders. And at the end of the day, we want these women to stop using firewood for domestic cooking and Kerosene for lightening because of the harms it does to the environment and the consequences on us all," he added.
According to the United Nations, deforestation, occasioned from heavy use of firewoods among others, are attributable factors responsible for global warming, which has attained a dangerous dimension with catastrophic consequences on humans.
Ehigiamusoe, a former Consultant to the Central Bank of Nigeria on Microfinance Banks, also recounted the beautiful journey of how LAPO was personally conceived by him, with the initial capital of N3.00, grown into over N2 billion capital base today, with about 7,000 employees gainfully engaged in its over 485 branches across the country; how he personally ran the company in his parlour for one year before the its institutionalisation and eventual growth into a formidable microfinance lending institution today.
"LAPO is not really a commercial Microfinance Bank in a real sense of it. What we do primarily is to lift people out of poverty. For instance, on a monthly basis now, we disburse N14.1 billion to people in form of loan. And what we get back in form of deposit, on monthly basis, is barely N2 billion.
"So, for us, there are three key elements in poverty. One, material deprivation; two, poor health; and three, social exclusion. Therefore, one key actionable plan to address this economic challenge is provision of access to funds for trading and other productive economic activities by the lowest of the low of the society.
"And in our three decades of operation, we have remained steadfast in discharging this commitment. Currently, LAPO has about four million customer base. We have 486 branches across the country, with about 7,000 employees. We just concluded a multi-million-naira health facility in Benin, Delta State, with a subjection of it (MIR diagnostic center) costing over N500 million," he reminisced.
By Bankole Shakirudeen Adeshina