The EcoWaste Coalition on Monday, September 13, 2021, appealed to online retail giants to remove product listings for mercury-laden skin whitening cosmetics long proscribed by the authorities to protect human health and the environment.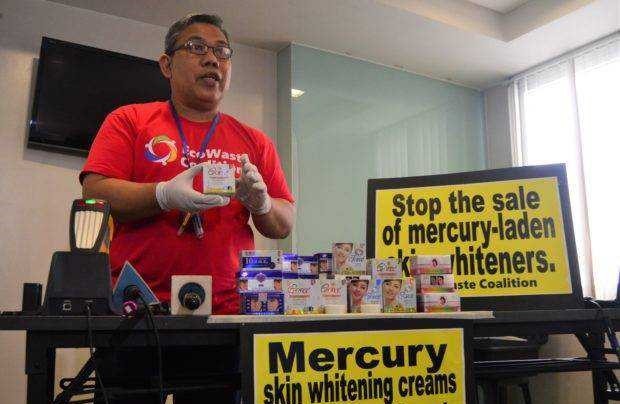 The toxics watchdog group had earlier urged e-commerce sites to "go mercury-free" after uncovering the unbridled sale of mercury-containing medical devices by third party dealers in four online shopping platforms.
Even as it welcomed the quick removal of some product ads for mercury sphygmomanometers and thermometers as an outcome of its recent exposé, the EcoWaste Coalition lamented that some online shopping platforms are still flooded with hundreds of product listings for mercury-laced skin whiteners.
"We have found over 280 product listings for skin lightening cosmetics, particularly facial creams, that have been banned by our health authorities for lacking market authorisation and/or for containing mercury, which is a forbidden ingredient in cosmetic product formulations," said Thony Dizon, Chemical Safety Campaigner, EcoWaste Coalition.
The group has already notified the Food and Drug Administration (FDA) about its findings through an e-mail sent to the Center for Cosmetic Regulation and Research (CCRR).
"Online shopping sites must stop wholesalers and retailers from using their platforms to engage in the illegal trade of mercury-containing skin whiteners that pose serious health risks," emphasised Dizon.
Toward a zero waste e-commerce, Dizon likewise urged online retail giants to reveal data on waste estimates, reduce waste production, and redesign current packaging systems to cut down on plastic waste as demanded by environmental groups led by Greenpeace, a member of the EcoWaste Coalition.
Mercury in excess of the trace amount limit of one part per million (ppm) is prohibited in cosmetics, including skin lightening creams and soaps, under the ASEAN Cosmetic Directive and the Minamata Convention on Mercury.
Despite being the subject of various public health warnings issued by the FDA since 2010 to date, the group found nine brands of imported skin lightening products still being sold online by third party dealers.
According to the report "Toxic Exposé" released by the EcoWaste Coalition in March 2021, the sale of mercury-containing skin whitening products via online shopping platforms and social media sites is an affront to RA No. 9711, or the FDA Act, and RA No. 7394, or the Consumer Act of the Philippines. These Republic Acts prohibit and penalise the sale of cosmetics without FDA authorization or those that contain harmful substances.
As per the World Health Organisation, "mercury-containing skin lightening products are hazardous to health."  Adverse health effects associated with the use of such products include skin rashes, discoloration and scarring. Aside from reducing skin's resistance to bacterial and fungal infections, direct and extended exposure to mercury during the repeated use of such products can harm the brain, the nervous system and the kidneys.
The EcoWaste Coalition, which has been educating the public since 2010 about the hazards of skin care products containing mercury, exhorted consumers, especially women and girls, to avoid chemical whiteners, embrace their nature skin tone, and resist color-based bias, prejudice and discrimination.